Report from business select committee welcomed by FMB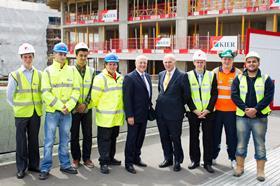 The government's apprenticeship programme requires urgent reform, a committee of MPs has concluded.
Following an 11 month review, the business, innovation and skills committee today issued a report arguing that a single more ambitious definition of an apprenticeship is required to restore the apprenticeship brand.
The report was strongly welcomed by the Federation of Master Builders (FMB), which said the report echoed many of its recommendations.
The report calls for apprenticeships to be seen as equal to study at university and called for clear government policy on the purpose and goal of apprenticeships, as well as better monitoring of their funding and effectiveness.
The report said that public value-for-money required that funding should be targeted at sectors of the economy most likely to produce economic growth, with these sectors reviewed annually.
It also recommends that there be closer monitoring of employers' contributions to training.
"This is a time of austerity for government, individuals, for families and for businesses. But it is important that we continue to invest in skills," the committee said.
"We heard evidence of excessive profits at the public's expense, of a government paying out too much money far too easily and of a lack of genuine value for money being provided by apprenticeship schemes. This is unacceptable."
FMB chief executive Brian Berry said: "I congratulate the committee on a clear set of evidence-based recommendations.
"The government has already demonstrated its commitment to supporting apprenticeships and its aspiration to raise their status to put them on an equal footing with university.
"Now we just need to ensure the commitment and the funding are applied in the most effective way possible. I hope the government will carefully consider each of the committee's recommendations and I look forward to its formal response."