The co-chairs of the investigation into Carillion's failure are seeking further evidence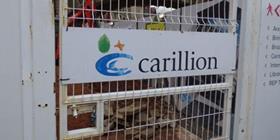 The MPs behind the inquiry into Carillion's collapse have written to more than 20 people including business secretary Greg Clark, work and pensions secretary Esther McVey and former chief executive Richard Howson asking them to comment on their findings published last week.
The work and pensions and business committees have written to all the witnesses, as well as interested groups, from the inquiry telling them to get responses back by early July.
The letters include a request to the former treasury committee chair and incoming head of the Competition & Markets Authority, Andrew Tyrie, to launch a review of the Big Four accounting firms, including the possibility of breaking them up, at the earliest opportunity.
The letter asked Tyrie to "demonstrate what a new broom you are at the CMA, by asking your staff to initiate that review as soon as possible".
In their letter to Tyrie co-chairs Rachel Reeves and Frank Field said "it looked increasingly inevitable that the CMA would conduct a review" of the Big Four firms.
They wrote: "Since our report was published, Bill Michael, chairman KPMG UK, said his firm had been thinking about break-up scenarios 'for some time' as the current business model of the Big Four is 'unsustainable'.
"Other Big four firms have reportedly begun making preparations for a break-up."
The MPs have also written to Sir John Kingman, who is chairing the government's independent review of the Financial Reporting Council, asking him to include the question of whether FRC leadership is equipped to effect the cultural change laid out in the inquiry's findings within his review.
Reeves and Field have also sent a series of questions to the chair of The Pensions Regulator (TPR), Mark Boyle.
They expressed their disappointment at the "modest" scope of some targets in TPR's latest corporate plan.
They also noted that secretary of state Esther McVey has confirmed her desire to see a regulator that is "tougher, clearer, quicker", and ask how TPR's board intends both to evaluate the performance of the current chief executive, and what the criteria will be for either reappointing or reappointing the next one.
All parties have been asked to provide their feedback to the inquiry's findings and answers to further questions by 4 July, with Field and Reeves saying they "intend to invite the committees to agree to publish those responses in full in a special report" before the summer recess.
| Name | Organisation | Role |
| --- | --- | --- |
| Alison Horner | Carillion | Chair of remuneration committee |
| Andrew Dougal | Carillion | Non-executive director and chair of audit committee |
| Carolyn Fairbairn | Confederation of British Industry | Director general |
| Nick Owen | Deloitte UK & Switzerland | Chairman |
| Emma Mercer | Carillion | Finance director |
| Esther McVey | Department for Work and Pensions | Secretary of state |
| Steve Varley | EY | Chairman and UK&I Managing Partner |
| Andrew Bailey | Financial Conduct Authority | Chief executive |
| Stephen Haddrill | Financial Reporting Council | Chief executive |
| Mike Cherry | Federation of Small Businesses | National chairman |
| Michael Izza | Institute of Chartered Accountants in England and Wales | Chief executive |
| Stephen Martin | Institute of Directors | Director general |
| Keith Cochrane | Carillion | Interim chief executive |
| Bill Michael | KPMG UK | Chairman and senior partner |
| Philip Green | Carillion | Chairman |
| Richard Adam | Carillion | Former finance director |
| Richard Howson | Carillion | Former chief executive |
| Robin Ellison | Carillion (DB) Pension Trustee Limited | Chairman |
| Sarah Albon | Insolvency Service | Chief executive |
| Frances O'Grady | Trade Union Congress | General secretary |
| Zafar Khan | Carillion | Former finance director |
| Greg Clark | Department for Business, Energy and Industrial Strategy | Secretary of state |
| Andrew Tyrie | Competition & Markets Authority | Chairman |
| Sir John Kingman | Independent Review of the Financial Reporting Council | Chair |
| Mark Boyle | The Pensions Regulator | Non-executive chair |
Source: Carillion inquiry