Parliament votes against amendment to the Energy Bill designed to drive green energy infrastructure work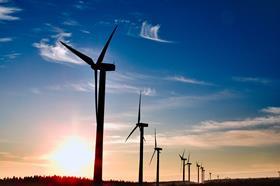 Investment in green energy is at risk of drying-up after an amendment to the Energy Bill that would have forced the govement to set a target for decarbonising electricity supply in the UK by 2030 was defeated in Parliament.
The amendment was designed to encourage further investment in the green energy sector, but was voted down in parliament this afternoon, by 290 votes to 267.
The amendment would have forced the government to set a target for decarbonising a portion of the UK's electricity supply by 2030 within a year.
The government's version of the bill merely gives the energy secretary the power to set a decarbonisation target in 2016, with no firm commitment to doing so.
The amendment had been supported by a number of green campaign groups and Lord Alan Sugar.
The government's own climate watchdog, the Committee on Climate Change, published a report last month saying such a move is necessary to ensure investor confidence in the green energy sector.
Tim Yeo, Conservative MP and chair of the energy and climate change committee, who put forward the amendment said it was a "missed opportunity".
"Unfortunately this could mean that urgently needed investment in our energy infrastructure will be slower and the risk of a capacity crisis greater."
"The continuing uncertainty that will result increases the perceived risk of investment and will therefore raise capital costs, meaning that consumers may ultimately pay more for the new power plants that need to be built."
He said it would be harder for the UK to meet its longer term carbon reduction targets
Yeo implored the House of Lords to amend the bill to include the requirement to set a decarbonisation target in the near future.
Gaynor Hartnell, chief executive of the Renewable Energy Association, said the result it was "disappointing".
She added: "It makes an EU-level renewables target for 2030 even more important, something the 'greenest government ever' is also opposing in Europe. Failing to decarbonise our electricity supply industry will have long term consequences both environmentally and economically."
John Alker, director of policy and communications at the UK Green Building Council, said: "There was a remarkable degree of consensus, from both private sector and NGOs, about the importance of a decarbonisation target in the Bill.
"Some coalition MPs chose to listen to the evidence and stand up and be counted this afternoon – sadly, not quite enough.
"The real danger is that this sends another signal to business that Government isn't serious enough about the future direction of travel on carbon, when progressive businesses are crying out for political leadership and policy certainty."
The Energy Bill, without Yeo's amendment, was later passed by a vote of 396 to eight.
Energy secretary Ed Davey said: "A clear message has been sent to investors that we are providing the security they need to work with us to revolutionise the energy sector and produce cleaner energy, keep the lights on and people's bills down."