The controversial motion passed with a majority of 296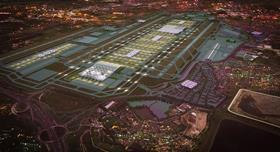 MPs have given plans for a third runway at Heathrow the go-ahead.
The controversial motion passed with 415 votes to 119.
The vote follows a decision by government earlier this month to support plans for the expansion of Heathrow.
Members from the two major parties voted both for and against the proposals.
While the government ordered Tory MPs to back the project, Labour allowed its MPs a free vote despite the party officially opposing the plan.
The SNP, who had previously been supportive of the plan, decided to officially abstain from the vote with its transport spokesperson Alan Brown saying the plan failed to "provide sufficient guarantees over any benefits they claimed it would bring to Scotland".
The 12 Liberal Democrat MPs were expected to vote against the plan. The party's leader Vince Cable's Twickenham constituency is directly in the airport's flight path.
Foreign secretary Boris Johnson, who is currently in Afghanistan, has been hit with severe criticism for failing to front up for the vote.
Johnson, whose constituency Uxbridge and South Ruislip is under the Heathrow flight path, has been a vocal critic of Heathrow's expansion having previously said "I will lie down in front of those bulldozers and stop the construction of that third runway". In order to vote against the government he would have to resign.
Ahead of the vote, transport secretary Chris Grayling moved to reassure MPs by making five promises for the delivery of the scheme.
Grayling promised no cost to taxpayers, a massive economic boost to the country and benefits for the whole of the UK.
He also pledged to meet environmental measures and to ensure all promises were legally binding.
He also stressed a yes vote did not grant planning permission.
Despite getting the go-ahead, the scheme faces an uphill battle, with affected local councils and London mayor Sadiq Khan vowing to challenge the plan in court.
Liz Jenkins, infrastructure partner at Clyde & Co, said the approval was "something of a false dawn".
She said: "While the Commons have given Heathrow the green light for a new terminal there are still plenty of legal hurdles to overcome.
"I would certainly expect to see challenges from activist local residents, local authorities and environmentalists on a range of legal, planning and regulatory issues, such as noise and emissions."
"Even if Heathrow manages to navigate these obstacles, there is still the small matter of the chronic skills shortage in the construction industry, which looks set to get worse post-Brexit."
She said gaining permission to build the runway was one thing, while finding the skilled labour to build it could provide an even greater challenge.