Parliamentary inquiry into late payment hears evidence from subcontractors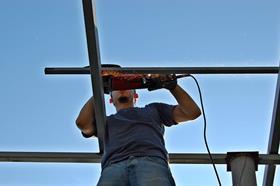 Main contractors withholding payments from subcontractors are guilty of "organised crime" a committee of MPs has been told.
The MPs also heard claims this week that contracting giant Balfour Beatty's standard contract is "onerous" and subcontractors would be "mad to work under it".
Giving evidence to the All Party Parliamentary Inquiry into Late Payments to Small and Medium Businesses (SMEs) on Tuesday (23 April), Steve Paul, managing director of SDP Floor Screeds, recalled how main contractors withholding payments totalling £1.2m had sent his separate plastering business, which he had built up over 25 years, into administration.
"It's organised crime really, they know what they are doing and they are playing with us. They hung me out to dry," he said.
The committee is investigating fair payment across all sectors of the UK economy and is led by Labour MP Debbie Abrahams who is a campaigner for fairer and faster payments to SMEs. The inquiry is due to publish its recommendations this summer.
It follows the announcement by Carillion last month that it had extended its payment terms to 120 days as part of a new payment system.
Steve Sutherland, chair of glazing contractor Dortech, told MPs he had been owed £500,000 from Balfour Beatty, comprising of numerous small payments and retention payments, before reaching a settlement which still left him £192,000 out of pocket.
He said because most of the payments withheld were around £5,000 the costs of adjudication made it uneconomic to fight for them.
Sutherland said he would no longer work with the contracting giant – other than doing maintenance work on legacy projects.
He said the firm's contract terms were "onerous" and pushed all risk down the supply chain. "If you read their contract you would say you would be mad to work under this but you work on it because you have done it for a long time and there has never been a problem so you do it on trust," he said.
Sutherland hit out at the firm's payment practices claiming it was trying to squeeze money from subcontractors to cover the costs it was incurring from underbidding on projects.
Sutherland said Balfour Beatty had been a leader in good payment practice but had lost its way over the last two years and he feared other main contractors would follow.
Kevin Craven, chief executive of Balfour Beatty Support Services, told the committee that two thirds of the invoices the firm received were paid on time. "We probably have over 1,000 sites live at any one time. There is an inherent problem in processing those," he said.
He added the firm did not bid for work at prices below cost. He said: "One of the reasons our volumes have dropped is because we are not doing that."
A spokesperson for Balfour Beatty added that the firm had worked well with Dortech for 15 years, but had recently has some issues with the subcontractor and had entered into revised payment and work schedules to ensure the issues were addressed.
Sutherland said: "I look to Balfour Beatty as the market leader to recognize the concerns that I and many others … have raised, and as the market leader to proactively bring about changes, or discuss processes that will address our concerns."
He said he hoped to meet with Craven for further discussions.