Politicians pressure contractors to use British steel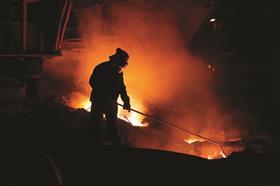 MPs are writing to contractors asking them to use British steel in their projects.
Cardiff MPs – Labour's Stephen Doughty, Kevin Brennan and Jo Steven as well as Tory MP Craig Williams – have all signed a letter urging builders to buy British.
They write: "Your business relies on a significant number of publicly-funded projects, we are urging you to fulfil your responsibilities to support the British steel industry that has served our country for hundreds of years."
The letter says the UK steel industry has been battling state-subsidised imports for a number of years and adds: "We must not and cannot stand by and [do] nothing while our proud industry goes to the wall…We urge you to consult with the steel industry to create a solution that will provide tangible benefits to the steel industry."
In a separate letter, the Labour secretary for the all parliamentary group for the steel and metal related industry, Redcar MP Anna Turley, asks contractors to sign up to the Charter for Sustainable British Steel produced by industry body UK Steel.
She adds: "By signing the charter, [you] will be leading the way in promoting sustainable, safe and traceable procurement as well as helping to enhance one of our nation's great industries."
And she warns those contractors that decide not to sign up "that your potential alternative would in fact favour non-EU producers and not support Britain's industry".
News of the letters comes as the construction industry's main trade body Build UK has put out guidance to firms about using British steel.
In a note, the group says its members "are committed to providing opportunities for British-based steel producers" and that it supports government efforts "to address barriers that prevent British-based steel producers competing effectively for contracts".