Brookfield subsidiary to take on 2,500 UK staff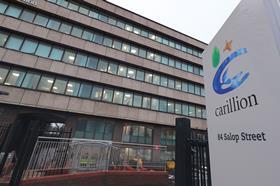 The Canadian company that owns Multiplex is taking over dozens of FM contracts previously managed by Carillion in the UK which will see more than 2,500 former Carillion staff transferred to its team.
Brookfield subsidiary BGIS, said it has struck a deal with PwC, the special manager for the Official Receiver, the office sifting through Carillion's contracts for the government's Insolvency Service, to buy "a large portfolio of Carillion FM contracts in the UK".
As well as schools and hospitals, the deal covers work in the justice, transport and emergency services markets. It is expected to be wrapped up by the end of next month. How much BGIS, which is based in Ontario, is paying has not been disclosed.
BGIS chief executive Gord Hicks said: "We are excited to welcome the more than 2,500 Carillion employees that will join the BGIS team upon closing. This deal provides continuity of services for a large number of customers providing critical infrastructure within the UK market."
BGIS has over 7,000 employees and looks after more than 320 million sq ft of space covering 30,000 locations around the world including North America, Europe and the Middle East.
Brookfield bought Multiplex, set up in Perth, Australia, by the late John Roberts in the early 1960s, from the founding Roberts family back in 2007.