Contractor says riverside scheme, which includes 49-storey tower, has already been scouted by groups looking to scale 'trophy' buildings
Multiplex has won an injunction banning daredevil trespassers trying to reach the summits of under-construction towers from entering its Bankside Yards site on London's Blackfriars Road.
Two years ago, the firm was forced to obtain injunctions against trespassers at three of its sites in the City – including 22 Bishopsgate and the neighbouring 100 Bishopsgate tower – after they were repeatedly targeted by so-called urban explorers.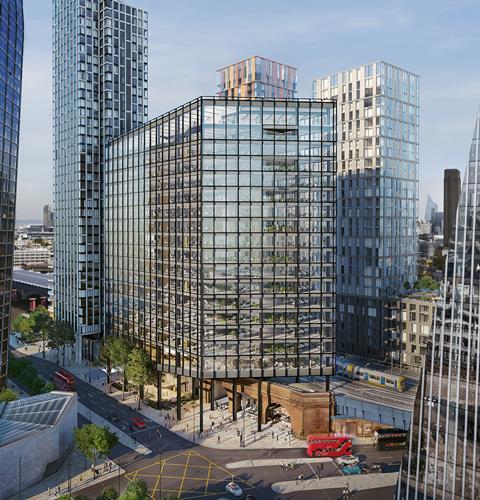 Multiplex formally took possession of Bankside Yards, previously home to the Ludgate House office block which was opened by former prime minister Margaret Thatcher in 1989, on Monday.
The first phase of work for developer Native Land will include a 49-storey tower which Multiplex is building under a design and build contract worth £179m.
Multiplex said urban explorers had already been eying up the site and added: "Unknown individuals have undertaken reconnaissance or attempted to trespass upon the Bankside Yards construction site."
According to a claim it filed in the High Court last week to stop the site being breached, Multiplex said: "The Defendants [Multiplex said it is impossible to know who all the people who might target the site will be] are so called 'urban explorers' who trespass on high rise buildings and construction sites and upload photographs and / or video recordings of their exploits to the internet for the entertainment of their subscribers or followers on social media."
It added: "Any attempts to access Bankside Yards will therefore constitute a trespass for which damages will not be an adequate remedy. The Claimants' concern is that any such trespass has the potential to cause very serious harm to the Defendants, construction workers and those who are responsible for the safety and security of the Properties including the emergency services."
A witness statement supplied by Multiplex's health and safety director Martin Wilshire detailed some of the practices undertaken by the groups, including 'roof-topping' which sees individuals get access to the roof of a building via tower cranes, stairwells or hoists..
He said: "Typically urban explorers target the tallest 'trophy' buildings in any given city – particularly those which offer the best views."
Sites with tower cranes have become a particular target, he said, while social media platforms have "promoted the activity more widely". Wilshire said some urban explorers have managed to secure sponsorship from fashion brands while "social media platforms pay those who post content upon them by reference to the number of 'followers' or 'subscribers".
Wilshire added: "The desire for exciting and novel footage encourages urban explorers to engage in increasingly dangerous activities, such as footage of people using the horizontal arms of cranes as monkey bars or performing acrobatic stunts on ledges at extreme height."
He said he believed Bankside Yards, which will have at least three tower cranes, "remains under the imminent threat of trespass from urban explorers [because it] is in a prominent location and will become an obvious target for urban explorers".
Previous injunctions have worked, he added, "dramatically" reducing the number of incidents because more experienced climbers knew "breaching an injunction constitutes 'contempt of court' which is a serious matter".
The firm's solicitor Eversheds Sutherland has also acted for a host of other contractors to deal with the issue including Canary Wharf Contractors at its Southbank Place scheme on the river Thames near the Shell Centre, Berkeley for its scheme at 250 City Road, Wates, Sisk and McAleer & Rushe, who are all working at Quintain's Wembley Park multi-towers scheme, and Sir Robert McAlpine at schemes in Woking and Manchester.
Eversheds acted for the Shard's owners, which include Sellar, last year after a 20-year-old free solo climber scaled the building last summer. George King-Thompson was jailed for 24 weeks last October for breaching an injunction to restrain trespass. He served half his sentence.