Ian Holcroft had been working for Laing O'Rourke JV at Somerset nuclear site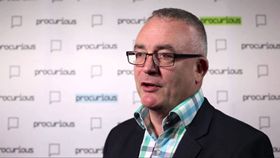 Murphy has appointed Ian Holcroft as its new director of procurement, joining the business at the start of next month.
He has over 30 years of experience in procurement within the construction industry and joins from the Hinkley nuclear power station project where he had been leading procurement for BYLOR – the joint venture between Laing O'Rourke and Bouygues.
Holcroft (pictured) had also been procurement director at Laing O'Rourke for the past two years and has been at the contractor for a total of seven years having held procurement leadership roles overseeing operations in Europe and Australia.
David Burke, chief financial officer at Murphy, said Holcroft's appointment is another step forward in developing its supply chain relationships to deliver on its ten-year plan to grow annual revenue to £2bn by 2025.
Earlier this month, the firm announced that Steve Hollingshead was stepping down as chief executive of Murphy after just two and a half years in the role.
The 61-year-old joined the north London contractor back in June 2015 after more than 25 years working for Ray O'Rourke – first at O'Rourke's concrete business and, following the firm's takeover of Laing Construction in 2001, at Laing O'Rourke.
Hollingshead, who will become a non-executive director, is being replaced at the beginning of next year by the firm's current chief operating officer John Murphy, who is the grandson of the contractor's founder.
In its last set of results, Murphy saw revenue for the year to January 2017 slip 2.5% from £629m to £613m. Pre-tax profit was up 69% to £23.3m.