London firm says it will use proceeds for future deals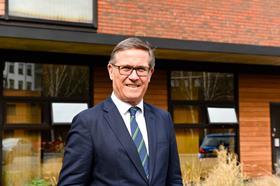 Murphy has sold its stake in pipeline construction company MPC to a private equity firm.
The London contractor, famous for its green vans, shelled out for a 50% stake in Australian pipeline construction firm Pipe and Civil back in 2011 to form Murphy Pipe & Civil.
The company, which is based in Brisbane, specialises in the energy, water and mining sectors in Australia and at one stage had 450 people on its books.
But the firm has now decided to sell up and Murphy's chief executive Steve Hollingshead (pictured) said the money made from the sale – which it has not disclosed – will be ploughed back into the business as part of its 10 year plan to grow revenue to £2bn by 2025.
Murphy also claimed the experience has provided it with an "excellent opportunity" to develop its strategy for entering international market, remaining positive about those in Australia and New Zealand with plans to pursue future opportunities utilising expertise in other sectors.
He added: "While the time was right for us to sell our stake in MPC, we are now looking forward to future investments.
"We are actively pursuing investments in development, infrastructure assets, new product launches and acquisitions, which complement our existing areas of expertise."
Two years ago, the firm launched its Canadian joint venture – Surerus Murphy – which recently won a spot on a scheme to build the $7.6bn Kinder Morgan Trans Mountain project, a pipeline which will carry oil and run 1,150 km between Edmonton and Burnaby, near Vancouver on the west coast.
In June, Murphy saw revenue for the year to January 2017 slip 2.5% from £629m to £613m, which it attributed to the completion of its work on Crossrail in 2015 and a reduction in activity in other parts of the UK business.
But it did see pre-tax profit surge 69% from £13.8m to £23.3m, which was due to the conclusion of legacy projects and "better management" of live projects.