Report estimates a further £7.1bn is needed for 'minor' repairs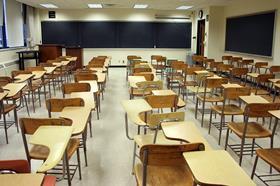 Bringing the UK's school buildings up to scratch would cost £6.7bn, according to a National Audit Office report.
The sum, based on Department for Education (DfE) estimates not previously made public, would return all buildings to at least "satisfactory" condition. A further £7.1bn would be needed to fix parts of buildings suffering minor deterioration.
The NAO report into schools capital funding said the cost of addressing major defects in schools is expected to double between 2015-16 and 2020-21. But the NAO said the DfE was delivering its priority school projects for approximately a third less cost per m2 than under the now abandoned BSF programme.
The report also revealed the cost of delivering free schools has spiralled from original estimates. In 2010 the DfE estimated it would cost £900m by March 2015 to open 315 schools but it had spent double this – £1.8bn – to open 10 fewer schools. The programme is expected to total £9.7bn by March 2021, of which 80% relates to the cost of construction with the remainder spent on the cost of snapping up land, the NAO added.
And the DfE was also accused of misspending taxpayers' cash on free schools with the NAO saying its approach to opening them often meant they ended up being built in areas where there was little demand for them, particularly at secondary level.
MP Meg Hillier, chair of the Public Accounts Committee, said: "The Department is choosing to open new free schools in areas which do not need them and are failing to fill places.
"This is taxpayers' money that could be used to fund much needed improvements in thousands of existing school buildings."
The NAO added that availabity of sites to build new schools is one of the biggest issues facing the DfE, particularly in London where three-quarters of the £863m it shelled out nationally between 2011 and 2016 on 175 freehold sites was spent here. Four of the sites in the capital cost over £30m.
The NAO said that the DfE expects to shell out a further £2.5 billion on buying up land between now and 2022 which would put it in the same spending bracket as a top five house builder.
NAO head Amyas Morse said: "To deliver value for money, the department must make the best use of the capital funding it has available – by continuing to increase the use of data to inform its funding decisions and by creating places where it can demonstrate that they will have the greatest impact."