Winner for international competition due this July
The National Gallery is looking for an architect to remodel both its grade I-listed buildings ahead of its 200th anniversary.
The institution has launched an international competition for a design-led team to improve the visitor experience and rethink the entrance sequence of the Sainsbury Wing.
The project has an anticipated construction budget of between £25m and £30m, while the design team contract is worth £3.5m.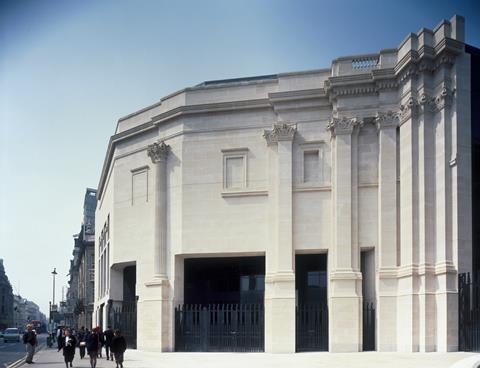 The brief gives entrants scope to look at how Venturi Scott Brown's 10,000sq m building links to the main Wilkins Building along Trafalgar Square's northern terrace. A new research centre is also part of the five-year programme of works.
It is thought to be the first time another architect will have been allowed to make alterations to the Sainsbury Wing which holds a legendary place in modern architectural history.
A high-tech design by ABK which won the original competition to extend the National Gallery was famously likened to a "monstrous carbuncle on the face of a much-loved and elegant friend" by the Prince of Wales in his notorious 1984 speech to the RIBA. His remark led to the scrapping of the ABK proposals. A new competition was launched which US practice Venturi Scott Brown won with its classically inflected piece of post-modernism. It was given grade I protection in 2018.
Today the gallery announced it was looking for an architect-led multi-disciplinary team to work with it on a "suite of capital projects" to mark its bicentenary. Only the first phase is scheduled to complete in 2024.
Gallery director Gabriele Finaldi said it wanted help developing an architectural vision and conceptual approach to a phased five-year programme of works that was "hugely important" to its future.
The two-stage selection process, run by Malcolm Reading Consultants, begins with an open, international call for teams to register their interest and demonstrate their relevant skills and experience.
A shortlist of up to five teams will then be asked to submit details of their approach to the design and delivery of the project and will be interviewed by a selection panel.
The gallery said no design work was required and that some expenses would be paid to the shortlisted teams. An appointment is expected to be made this July.
"We are extremely fortunate to have a superb building and a modern classic in the Sainsbury Wing; one that has more than met its original brief, notably in the practically perfect picture galleries," said Dr Finaldi.
"The dual challenge of a huge increase in visitor numbers and the changing expectations and needs of those visitors over the last 30 years means we do need to look again at the spaces we have, and in particular the ground floor entrances and amenities."
Malcolm Reading, chairman of Malcolm Reading Consultants, said: "We welcome both national and international teams. They will need to be exceptional and the international teams will require a UK partner for stage two."
The deadline for first stage responses is 2pm on 18 March. Details of how to enter are available at: https://competitions.malcolmreading.com/nationalgallery