Fall in numbers from EU cotributing to shortages, barometer index reports
Architects' confidence about their future workloads improved last month but almost one firm in five is struggling to recruit new staff.
According to the RIBA's latest Future Trends barometer of sector sentiment, the problem is particularly acute in large and medium-sized firms, where more than 40% of respondents reported difficulty in filling vacancies. The figure across all practice sizes was 18%.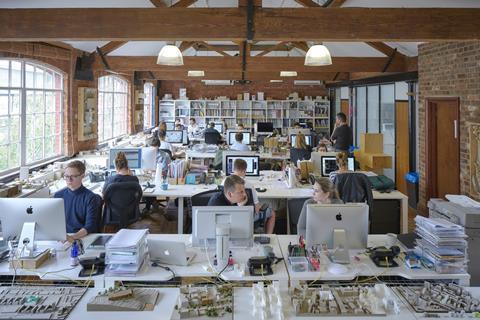 The RIBA said a lack of European candidates, following Brexit, to help meet staffing needs was "exacerbating the recruitment challenge".
At the same time, as the government's furlough initiative – known as the Coronavirus Job Retention Scheme – came to an end, just 1% of practices said they would be unable to retain returning staff. In July last year 20% of practices had staff on furlough, the RIBA said.
September's Future Trends survey showed the sector more upbeat about work pipelines than it was in August, with the workload index measure of sentiment up three points to +21.
The latest survey found practices of all sizes confident about growth in the housing, commercial and public sectors, with only work in the community sector expected to contract.
Adrian Malleson, RIBA's head of economic research and analysis, said September's results continued to show "broad-based confidence" among the profession.
"Positives include a strengthening market in the capital, improving employment opportunities, little chance of widespread redundancies as furlough ends and a recovery extending beyond private housing into the commercial sector," he added.
"Workloads continue to be up on a year ago. Many practices continue to report a full pipeline of projects; some have a client waiting list."
But Malleson added that as well as recruitment difficulties for both qualified architects and unskilled labour, practices faced shortages of construction products and price inflation that made managing project costs and scheduling "exceptionally difficult".
He said obtaining adequate and affordable professional indemnity insurance also remained an issue for practices.
The survey found that practices in all regions expected workloads to grow in the coming three months but not all were more optimistic than in August.
The south east has seen a 16 point drop in its workload index score, from +20 in August, to +4 in September, while the Midlands and East Anglia recorded a 14 point drop from +17 to +3.
In London, optimism increased by 14 points in September to +26, up from +12 in August. Confidence in the north of England was +41, up from +26 the previous month while in Wales and the west of England confidence bounced back to +28 – the same level as July – after plunging to +13 in August.