Faulkner Browns increase 'affordable' housing to 50%
Faulkner Browns Architects has submitted revised plans for Bishopsgate Goodsyard which the developers say will increase the number of "affordable" homes to 50%.
A spokesman for the joint developers said they are hoping to get the green light from the mayor of London before the end of the year for the long-delayed east London project.
The new percentage is a significant increase from the 35% pledged in March when the developers increased the overall number of flats under pressure from local planners to 500. They were dismayed when the number of flats was slashed from 1,300 to 250 as part of a major redesign that scrapped the tallest element, two PLP towers.
The revised planning application reflects the designs that went out for public consultation in March. These include lower building heights along Sclater Street as well as a 29-storey Eric Parry office block on Shoreditch High Street where PLP's 46- and 38-storey residential towers would have stood.
It also provides 1.4m sq ft of workspace in five buildings, with around 140,000sq ft of that "affordable", a figure the developers Hammerson and Ballymore said was "one of the largest single contributions of any development in London".
The new scheme creates a series of new pedestrian streets connecting Brick Lane, Shoreditch High Street and Sclater Street, lined with retail, residential and workspace. The listed Braithwaite Viaduct arches will be opened to the public and the Oriel Gate restored to become the "gateway" entrance from the high street.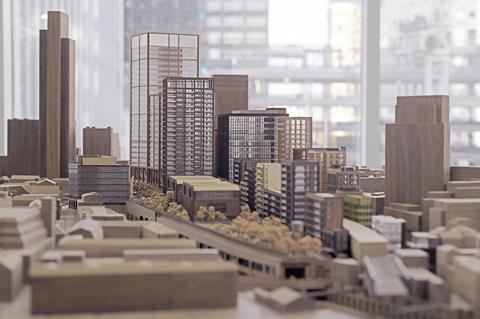 The development will have over six acres of public realm, 25% more than originally proposed and covering over 50% of the whole site, said the developers. This will include a public park on top of the restored railway arches that will include a series of connected gardens, terraces and walkways.
Other architects working on the project are Buckley Gray Yeoman, Chris Dyson, and Spacehub.
The JV partners acquired the prime 4.4ha City fringe site from Railtrack in 2002 but have struggled to win support, with campaigners objecting to the scale and massing of the original proposals.
When they unveiled revised proposals in November last year they said formal plans were expected to be lodged in early 2019.
Sadiq Khan is responsible for determining the proposals because his predecessor as mayor, new prime minister Boris Johnson, used his planning powers to take the application out of the hands of Tower Hamlets and Hackney councils in 2015.
The GLA said it was too early to comment on whether the plans would go to committee this year.