Deloitte crane survey says developers brushing off worries workers will stay at home for good
The London office market continues to rebound as confidence grows among developers that working from home will fall out of fashion, according to Deloitte's latest crane survey.
The volume of new office starts rose by 10% between April and September, the third consecutive rise recorded by the six-monthly survey.
Some 3.4 million sq ft of office space started construction during the period, well above the survey's long-term average of 2.4 million sq ft.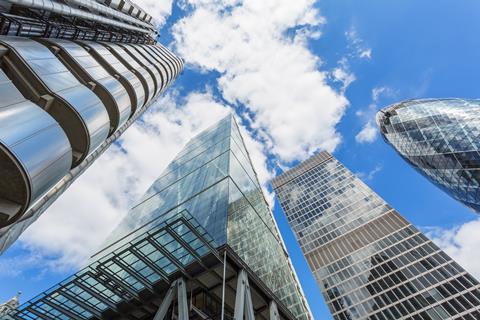 It found more than a third of developers now expect working from home to have no impact on leasing demand, three times more than the 12% reported 12 months ago.
Deloitte real estate director Mike Cracknell said a high level of new speculative development reflects developers' "ability to look through the short-term effects of the pandemic to a future where occupancy and demand will rebound".
He added: "The volume of new starts points to the resilience of demand for offices as an asset class, in spite of the dramatic shift in working practices in response to the pandemic and months of home working."
Pre-lets of new construction starts have also jumped to 19% from 10% recorded in the last survey, with 90% of developers now more optimistic about leasing demand than they were six months ago.
And almost two thirds, 65%, of developers expect their pipeline to increase, compared to just 7% 12 months ago.
The firm's real estate leader Siobhan Godley said: "Developers are optimistic as the market has become more buoyant and there is renewed confidence about the future."
Although the total volume of office space under construction dropped for the second consecutive survey to 13 million sq ft, it was still well above the long-term average of 10.7 million sq ft.
Deloitte said the slide, which has happened despite the increasing number of new starts, has been driven by the completion of high volumes of development held up by the pandemic.
The survey also showed that the long-term trend towards office refurbishments continues, despite newbuild projects staging a fightback during the pandemic.
Newbuilds rose for the third consecutive survey to 46% of the total, up from 33% 12 months ago.
But Deloitte said concerns over sustainability and embodied carbon still point to an underlying trend favouring refurbishments, which accounted for 54% of the volume of new starts in the latest survey compared to 44% in summer 2018.
The firm's real estate valuation lead Philip Parnell said the focus on refurbs over redevelopment is "unlikely to diminish as carbon accounting including embodied carbon and the drive to net zero continues to gather momentum".
A quarter of developers said they expect all their new developments to be net zero by 2024, and 45% expect to achieve this between 2025 and 2029.