New suite of government-endorsed NEC3 contracts to be launched next week embrace project bank accounts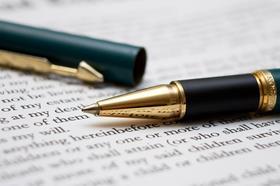 A new suite of the government-endorsed NEC3 construction contracts will be launched next week that include provisions for project bank accounts as well as a new contract for consultants working on smaller scale projects.
The new suite of updated NEC3 contracts will be launched on Monday (22 April) and include, for the first time, provisions for the inclusion of project bank accounts, a system where clients make payments into a single bank account and all contractors draw their payments from it.
NEC said the move was a direct response to the government's initiatives on fair payment, designed to improve payment practices across the construction industry and eliminate retentions throughout the supply chain.
The NEC will also launch a new form of NEC3 contract designed specifically for the procurement of professional services and consultancy on smaller scale projects (PSSC), where less sophisticated levels of management are required, such as the appointment of project managers, architects and consultants.
The short contract has been jointly developed with the Association for Project Management to complement the existing NEC3 Professional Services Contract (PSC).
Rekha Thawrani, NEC general manager, said the PSSC was an alternative to the PSC which is more complex and is designed for use on large-scale projects which may require long-term appointments. The PSSC better enables the appointment of professional services for short periods of time, he said.
He added: "The key objective of the PSSC is to provide our users with an easy to use, easy to understand, short version of the existing PSC, doing away with aspects and clauses of the contract which are irrelevant or unnecessary for smaller-scale projects, providing users' with the exact content they need."
NEC contracts cover the lifespan of a project from initial concept and design through to build and post-build management and are endorsed by the construction client board of the Cabinet Office for use on all public sector construction projects.
The key objective of NEC3 contracts is to encourage parties to work together to allocate risks and create a working relationship that will ultimately provide value for money for the purchaser and a reasonable return for the supplier.
NEC is a division of Thomas Telford Ltd, which is a wholly owned subsidiary of the Institution of Civil Engineers.