Plasterers, brickies and labourers most at risk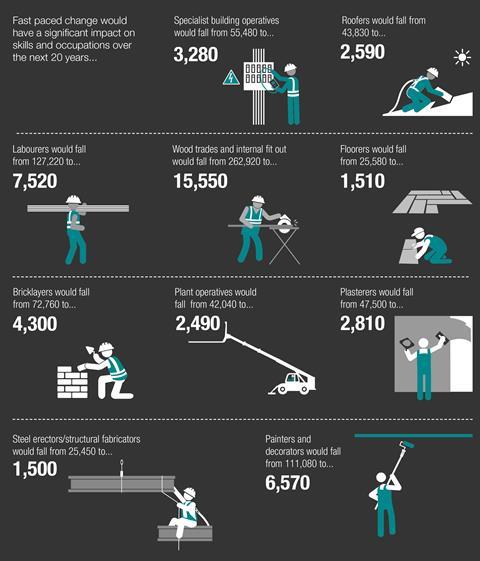 Up to 600,000 jobs could becould be replaced by new technology in construction over the next two decades, new research from Mace estimates.
Trades most at risk from the uptake of new technology are in plastering, bricklaying and labouring with 94% of jobs likely to go in each if the industry proceeds along fast-paced change.
The contractor has also warned that without a concerted effort to reskill the sector's current workforce and attract a new, more tech savvy generation into construction in the UK it could lose out on the productivity benefits of the next industrial revolution.
An extra £25bn a year could be added to the UK economy by 2040 if the sector properly adopts technologies such as cloud computing, the Internet of Things, artificial intelligence, autonomous vehicles and robotics, Mace said in its latest Market Insights report.
Mace is calling for the latest 3D printing technologies and augmented and virtual reality tools to be mandated into industry training programmes and into schools' "construction clubs," wide-scale research by the industry into what the skills needed in the future will be and reformation of current apprenticeships and training to reflect modern methods of construction and off-site assembly manufacturing.
Mark Reynolds, chief executive at Mace, said: "Everyone now acknowledges the current skills shortages need to be addressed. Our latest report highlights the opportunities the digital revolution can offer, how we can dramatically close the future skills gap and how we can meet the £25bn 'productivity challenge'.
The report from Mace coincides with the release of the findings of an independent review on behalf of the government into how the country's manufacturing can benefit from new technologies and increasing digitalisation.