Hospital says shortlist of three will be drawn up next month
The trust behind the new Birmingham hospital brought to a standstill by Carillion's collapse last year has started the search for a replacement – and attached a minimim £267m price tag to the job.
The Sandwell and West Birmingham Hospitals NHS trust has today (9 January) published a contract notice calling on main contractors to register their interest in taking over the Midland Metropolitan Hospital (pictured) scheme.
The trust has added a number of restrictions on those who might be interested in taking over the job, including putting a £320m cap on bid price and requiring bidders to have a turnover of at least £534m, twice as much as the job's estimated value.
The trust has given firms until 6 February to flag their interest in the project, with a shortlist of three firms set to be invited to tender on 22 February.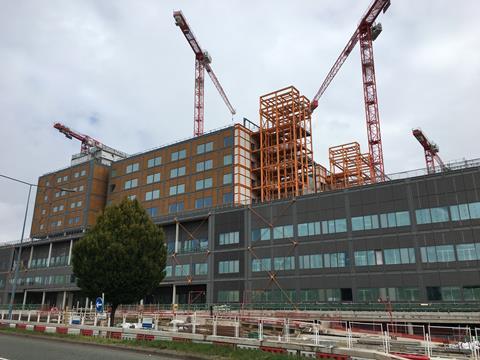 The trust also outlined the timeline for the project, with the main package of work expected to restart in October and wrap up by the end of December 2021.
Balfour Beatty is among the frontrunners for the job, with the firm already on site carrying out an early works contract.
According to papers published ahead of last week's meeting of the the trust's board, the contractor was joined at a bidders' day by four other firms; Kier, Sir Robert McAlpine, Laing O'Rourke, who has since been appointed to deliver Carillion's other stalled hospital in Liverpool, and Graham Construction.
In the minutes on feedback from the event, Balfour Beatty was described as "expect[ing] bid costs of circa £1m to be underwritten in the event that they are not successful" while Kier, which the trust said was expected to try and team up with M&E specialist NG Bailey, had also "raised the issue of bid costs and underwriting should they be unsuccessful".
On Kier's bid, the minutes added: "They do not have significant large acute healthcare experience and there is a risk they could fail the selection questionnaire stage."
The minutes also said Graham was "not expected to bid" while they also mentioned Skanska which had been working with the trust earlier last year about taking over from Carillion before pulling out last spring after being lined up to carry out the work.
Skanska did not attend the bidders' day and the trust's minutes admitted: "The bid investment already made and lost is expected to preclude them [Skanska] from further participation…it is a very low probability that they would now compete for the Midland Met."