£14m system will divert rainwater from across 561-acre site into River Thames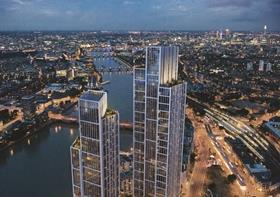 The multibillion-pound regeneration of the Nine Elms area of south London will incorporate the UK's largest sustainable urban drainage system, the developers and local authorities behind the scheme have announced.
The £14m system will divert rainwater falling on the 561-acre area straight into the River Thames to prevent it flooding London's overstretched sewers.
The Nine Elms area incorporates some of the UK's largest construction projects, including a new US Embassy, the redeveloped Battersea Power Station and the £1bn One Nine Elms twin towers.
It also stands to benefit from two new London Underground stations, new schools, two town centres, around 4,000 affordable homes, health centres, a high-speed data network for businesses, a second River Bus pier and a new cycling and pedestrian network.
The drainage system will involve buildings and landscape capturing rainwater and channelling it to large pipes buried beneath the new Nine Elms park. The water will then be pumped into the Thames by a new pumping station.
The system will reduce flood risks and save the energy and cost involved in treating rainwater after it combines with waste from sinks, toilets and washing machines.
The drainage project has been developed through a partnership between Thames Water and the Nine Elms Vauxhall Partnership, which includes Wandsworth council, Lambeth council, the Greater London Authority and developers, including Ballymore.
Other eco-friendly rainwater features at Nine Elms will include green roofs, swales — ditches with vegetation used to remove pollutants — and streets with rainwater gardens that allow water to evaporate, irrigate plants and reduce the volume flowing into the river.
Richard Aylard, sustainability director at Thames Water, said: "By keeping the rain out of our combined sewers we are reducing the risk of flooding and pollution.
"This will become especially important in the long term as London's population continues to grow rapidly and the climate changes. It is about putting surface water back where it belongs — in the river."