Contractors yet to reach settlement over Valiant Jetty project handed over nearly five years late and close to £100m over budget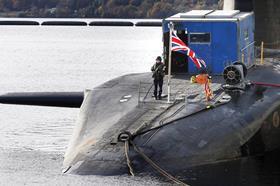 Amec and Morgan Sindall have yet to reach a settlement with the Ministry of Defence over the liability for close to £100m in cost overruns on their troubled nuclear submarine project in Scotland.
The contractors handed over the Faslane SSN Berthing Project – also known as the Valiant Jetty – in May last year, nearly five years after the scheduled completion date of October 2008.
In 2011 the Ministry of Defence (MoD) said the project, which started in May 2004, had run £93.6m over its current agreed maximum price of £142.1m and £146.7m over the original agreed maximum price of £89m.
As Building revealed in 2012, the contractor on the job is liable for the first £50m of the estimated £94m cost overruns, with liability for the remaining cost overruns to be determined between the contractor and the MoD.
Amec was originally sole contractor for the jetty, but after Morgan Sindall acquired Amec's construction business in 2007 the project became a 50:50 joint venture between Morgan Sindall and the remaining independent Amec business.
This week the MoD declined to say if the overruns had risen above £94m since its 2011 estimate, but confirmed the project had reached completion and was operational, except for a "small number" of defects that were being rectified.
However, a spokesperson said the MoD "has not yet reached a settlement" over the liability for the cost overruns, adding: "Due to the ongoing dispute we are unable to comment further at this time."
Last year Amec failed in a legal bid to limit its liability for the cost overruns to £50m, with the High Court ruling that it would need to reach a settlement with the MoD over the amount for which it was liable above the first £50m.
An Amec spokesperson said the firm "remained focused on achieving a satisfactory commercial resolution with the client".
Last week Building revealed Amec and Morgan Sindall are also locked in a legal dispute over a £16m hotel project in Liverpool, centring on the liability for £8m in costs arising due to defects on the project, which Amec argues was transferred to Morgan Sindall as part of the sale of its construction business to the firm.
A Morgan Sindall spokesperson said the firm would not comment on "individual contracts or legal matters of this nature".