Hearing told of more concerns from worried cladding contractors over Kingspan's K15 product
The former head of technical at the manufacturer of a combustible insulation product installed on Grenfell Tower has told the inquiry he was not aware the product was not safe to use on tall buildings.
Tony Millichap, who worked at Kingspan between 2010 and 2015, told yesterday's hearing that the fire performance of the K15 insulation installed on the 67m tall Grenfell tower "should have been looked into in more detail at the time".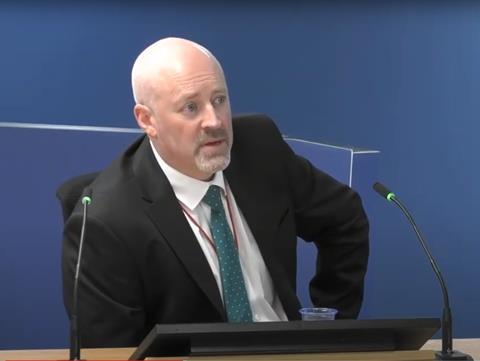 The inquiry has already heard how a product dubbed "old technology" K15 had passed a fire test in 2005 – but the following year this version of the product had then been swapped with a newer version which was "quicker and more cost-effective to produce".
When this "new technology" K15 was tested in 2007, it turned the test rig into a "raging inferno" and had to be extinguished by the Building Research Establishment (BRE) out of fears that it would endanger the testing laboratory.
Despite the failed test, Kingspan continued marketing "new technology" K15 as safe for use on buildings taller than 18m for over 14 years on the basis of the 2005 test report.
It only withdrew the test report in October this year, writing in a letter to the BRE that it was "now of the view that there are sufficient differences" between what had been tested and what was being sold.
Millichap said: "I must admit the difference between old and new technology is lost on me."
He added: "I was aware of old technology being used in the 2005 test. What I didn't appreciate was that it didn't represent, or wasn't representative of, the product that was being sold latterly when I was in the role."
Asked by inquiry barrister Kate Grange QC if he had ever asked someone to explain to him what the difference between the two products was, Millichap replied: "Not specifically." He added: "Knowing what I know now, that should have been looked into in more detail at the time, but I wasn't aware that could, should or did have an impact on its fire performance."
The inquiry has heard how the successful test of "old technology" K15 had been used to secure certificates from the British Board of Agrement and the Local Authority Building Control which said the product was safe to use on buildings above 18m.
But yesterday, the hearing was shown an email chain from the National House Building Council, which called the LABC certificate "garbage". The email added: "Hereford LABC didn't know what they were talking about."
In another email chain seen by the inquiry, Kingspan was criticised by a contractor for recommending K15 on a high-rise project.
Kingspan assured subcontractor Astec Projects the insulation could be used on a luxury 15-storey development in central London called Hampton House.
But Astec replied that the project's cladding system did not "even remotely resemble" the system tested on the product's test report.
Astec's email read: "You know it is the BRE's view that the use of K15 should not be specified on the basis of those test results."
It continued: "We find it incredible you have any comfort in proposing K15 on this project, or in fact any other over 18m. This does bring your corporate responsibility into question.
"You will no doubt take the view that we, as the envelope contractor, have to take responsibility for the design and specification of the façade materials and you are simply an insulation supplier, yet here we are with you endorsing your product knowing it is not appropriately tested, with little way of substantiating it is fit for purpose for this project in any way whatsoever."
Millichap admitted that the points raised in the email were "valid" but added: "They've stated themselves in the email that they are the envelope contractor and that it is their responsibility."
Astec Projects, which had a turnover of £45m, went into administration in April 2014 with the loss of 65 jobs.
In another project called First Street North in Manchester, Kingspan issued cladding contractor Lakesmere – which went into administration three years ago – a £20,000 credit note after the contractor discovered that the K15 installed on the building was non-compliant with building regulations and had to be stripped off and replaced with mineral wool.
Millichap explained in his witness statement: "It was not Kingspan's responsibility to determine compliance." He added that clients would sometimes raise concerns but these were "misplaced: they were trying to lay responsibility for compliance with Kingspan which was not appropriate".
A spokesperson for Kingspan said: "Kingspan condemns unreservedly any actions that do not demonstrate a proper commitment to fire safety."
K15 was never specified for use as part of the refurbishment of Grenfell Tower, but after the fire which killed 72 people it was found to have been installed behind the new aluminium composite material cladding on some parts of the block.
The inquiry continues.