Ground engineering firm's growth driven by expansion in North America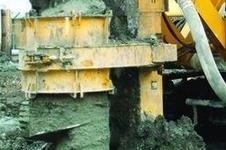 Ground engineering specialist Keller has reported a 22% rise in revenue to £788m in the first half of 2014, driven by growth in its North American business.
In a statement to the City this morning, the firm reported revenue of £788m in the six months to 30 June 2014, up from £645m over the same period of 2013.
All of the firm's four regional businesses reported a rise in revenue but the North American business reported the greatest leap with revenue rising to £373m in the first half of 2014, up from £308m in the first half of 2013.
Keller also reported a sharp rise in pre-tax profit before exceptional items to £32.5m in the first half of 2014, up from £26.8m in the first half of 2013.
However, the firm also incurred exceptional costs of £27.6m in the first six months of 2014, which reduced its headline pre-tax profit to £4.9m, compared with £17.4m in the first half of 2013 when the exceptional costs, totalling £9.4m, for that period were also included.
The firm's exceptional costs in the first half of 2014 were mostly made-up of a £30m exceptional charge - which it announced it was making last week - that related to a contract dispute over alleged faults in its work on a warehouse completed in 2008.
Keller has said the claims against it are being "vigorously defended".
As previously revealed by Building, Keller is embroiled in a multi-million legal wrangle over faults at a £40m wine warehouse near Bristol, where it is facing a claim that piling errors caused cracks in the warehouse floor. Keller denies it is responsible for the faults.
It is understood that it is this warehouse project that prompted the exceptional charge, although Keller has declined to comment on the identity of the warehouse project.
As well as exceptional cost of £30m for the warehouse dispute the firm incurred other exceptional items, including amoritisation and acquisition costs, totalling £4.6m.
The £34.5m of exceptional costs were partly offset by recovery of £6.9m in contingent payments for its acquisition of Keller Canada, which it said it did not now expect to have to pay because Keller Canada's profit had fallen below the expected level.
Justin Atkinson, Keller chief executive said he "remained optimistic" about Keller's "long term prospects".
He added: "Keller continues to make positive progress against its strategy and is well positioned to take full advantage of future opportunities."
Speaking to Building, Atkinson said the firm would continue to look at "bolt on acquisitions" to help further grown the business but had "nothing of substantial size" in the pipeline.
He said that increased sharing of different piling technologies across the group's geographical businesses had improved the firm's profit margin.
"It gives us a competitive advantage to offer technology local competitors cannot offer," said Atkinson.