Through-station will support future services in the North, say advocates
Andy Burnham's push for an underground HS2 station in Manchester has been backed by a group of northern business leaders.
HS2 legislation put forward by government currently proposes a new six-platform above-ground station to be built besides the existing Manchester Piccadilly station.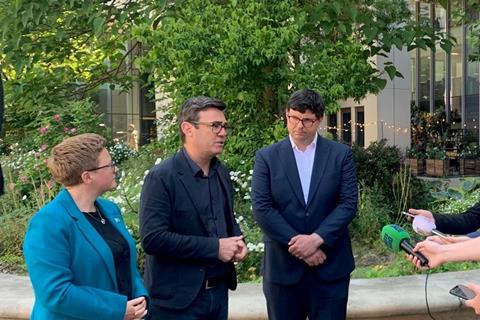 But regional leaders have claimed that building overground would squander half a million sq m of development land and questioned the department's claim that an underground station would cost an additional £5bn.
Now, the Northern Powerhouse Partnership (NPP), a group of regional business leaders have thrown their support behind proposals for an underground station, after a meeting yesterday with Mayor Burnham and city council leader Bev Craig.
Burnham, said: "In HS2 we have a once in a lifetime opportunity to deliver something truly transformational for Greater Manchester, the North and the whole of the country that will improve the lives of generations to come.
"But in its current form, HS2 does not do that. In order to truly maximise the benefits of high-speed rail between London and Manchester and future Northern Powerhouse Rail services, a through-station that unlocks seamless onward connections to the rest of the North at Manchester Piccadilly simply has to happen, and it needs to be connected directly to London Euston, not six miles out of the city."
As well as being built overground, the government's current proposals are also for a turn-back station, rather than a through-station.
Proponents of the latter say the existing plans place an unnecessary limit on the new station's ability to accommodate more trains once HS2 and Northern Powerhouse Rail services are running in future.
Henri Murison, chief executive of the Northern Powerhouse Partnership, said: "We have got to choose the North's long-term prosperity and ambition over short-term cost cutting.
"An underground station would unlock additional land in the city centre, enable a deliverable through-route for Northern Powerhouse Rail towards Yorkshire and ultimately deliver a far higher return for the taxpayer.
>>See also: Weston Williamson unveils plan to 'save Manchester' by burying HS2 station
>>See also: Andy Burnham interview - the talk of the town
"Equally as important is ensuring we get a fair deal for the high-speed station at Manchester Airport, which government is asking the local public sector to fund - unlike the station at Birmingham Airport.
"We need a serious conversation about funding options for both stations, including a development corporation to maximise the number of homes we can deliver in and around Greater Manchester."
The NPP joins the Mayor of London Sadiq Khan, the London Chamber of Commerce and Industry and Greater Manchester's Federation of Small Businesses in backing an underground Piccadilly station.
Proposals for an underground through station which will be heard by a Bill Select Committee in Parliament from 12 June.