Latest Deloitte report says Belfast was only city to see improvement on number of schemes coming out of the ground
Construction of new office space fell substantially last year in three of the four cities covered by Deloitte's latest regional crane survey.
The annual survey said that the 4.3 million ft² of office space being built across Belfast, Birmingham, Leeds and Manchester in 2019 was 12% lower than in 2018. Belfast was the only city covered by the survey to show an increase. The volume of office space being developed rose 37% between 2018 and 2019, improving the overall picture.
The slowdown was not a huge surprise, given that the regions have seen a massive uplift in office space development in recent years. Large corporates have commissioned and moved into new offices in the regions, including HSBC and BT moving staff to Birmingham, HMRC locating employees in Leeds, and online retail giant Amazon setting up shop in Manchester. Deloitte itself is moving into a 213,000ft² office in Belfast next year.
Deloitte's survey found the total number of project starts across all activities in 2019 in Belfast rose from nine to 12, while it roughly halved in Birmingham, Leeds and Manchester.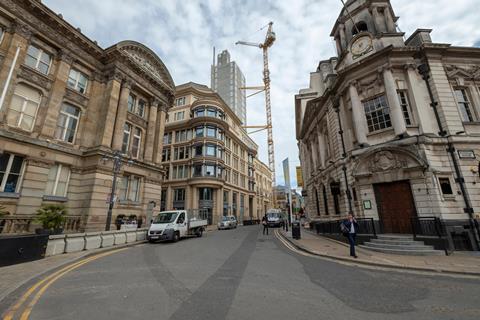 Alongside new offices, education has been a driving force, with nearly three million ft² of learning facilities being built, the survey found.
Of the four cities, Manchester led the table for planned completions, with 47 schemes across all activities due to finish this year, including nearly 9,000 homes, the highest number expected to be completed since Deloitte began coverage of the city 21 years ago.
Simon Bedford, a partner at the firm's real estate business, said that regional cities were holding their own despite the recent economic uncertainty. But while more homes had been delivered in Birmingham, Leeds and Manchester than at any time since 2007, Bedford said that fewer units had been delivered than the firm had expected. A lack of skilled labour, rising costs and a shortage of development land were all factors that knocked development efforts.
Bedford warned that there would continue to be challenges, particularly around the need for infrastructure investment to keep up with the pace of real estate expansion.
Deloitte's survey looked at office and retail projects in excess of 10,000ft² and housing schemes of at least 25 units.
| Number of new starts | | | | | | | | | |
| --- | --- | --- | --- | --- | --- | --- | --- | --- | --- |
| | Residential | Offices | Student housing | Hotel | Retail/leisure | Education | Other | Total 2019 | Total 2018 |
| Belfast | 2 | 4 | 2 | 0 | 2 | 2 | 0 | 12 | 9 |
| Birmingham | 7 | 4 | 0 | 0 | 0 | 0 | 0 | 11 | 23 |
| Leeds | 4 | 3 | 1 | 0 | 1 | 2 | 1 | 12 | 21 |
| Manchester | 11 | 5 | 0 | 4 | 1 | 2 | 0 | 23 | 44 |
Source: Deloitte's Regional Crane Survey 2020