Official Receiver David Chapman confirmed he had charged £297,000 in administration and general fees by 29 March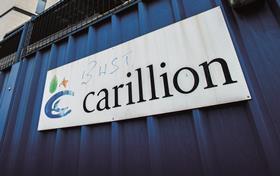 The Official Receiver in charge of Carillion's liquidation charged almost £300,000 in the first two months following the contractor's collapse.
According to a letter from David Chapman published by the select committees who ran the inquiry into Carillion's failure he had charged £297,000 by 28 March.
Chapman said: "To date I have charged £297,000 in respect of the administration and general fees (£11,000 x 27 liquidations) though nothing has been charged for the liquidator fee to date.
"In any compulsory liquidation, the official receiver receives statutory fees totalling £11,000, known as the administration and general fees, and also a fee equivalent to 15% of all sums received from the realisation of company assets, after deduction of sums due to secured creditors or amounts paid out in carrying on the business of the company.
"This is known as the 'liquidator fee'. These fees are provided for by The Insolvency Proceedings (Fees) Order 2016."
The letter also confirmed that if the costs of the liquidation, which include the costs of employing the special managers PwC, "are irrecoverable from the assets, the shortfall will be a debit balance on the Insolvency Services account and that the government would underwrite any shortfall".
The letter was published on Wednesday as part of the latest tranche of correspondence to be made public by the inquiry despite being written at the end of March.
The website for the inquiry says it has now concluded.