Group's latest materials update flags risk of new covid variant on production into next year
Rapidly increasing Omicron cases are likely to lead to fresh material supply issues in the new year, the Construction Leadership Council (CLC) has warned.
The group said it expects pressure on supply chains to return following the emergence of the new covid-19 variant, despite precautions being taken by merchants and manufacturers.
Yesterday the UK recorded its highest ever number of covid cases, with 106,000 positive tests. The eight highest daily case figures since the start of the pandemic have all come since 15 December, according to government figures.
But hospitalisations are currently only slowly increasing. Just over 300 people were admitted to hospital in the past week, bringing the total to 8,008.
The CLC's warning came in a joint statement by Builders Merchants Federation chief executive John Newcomb and Construction Products Association chief executive Peter Caplehorn, who are co-chair's of the CLCs product availability working group.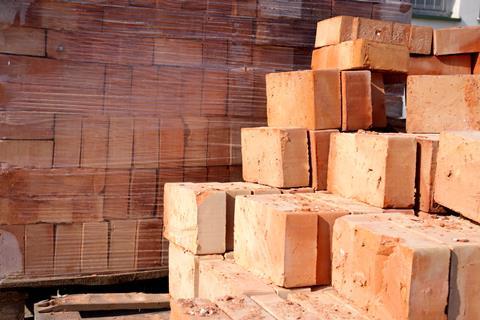 They said that despite improvements in material supplies being seen across all UK regions, this is largely due to a seasonal decline in construction activity.
The pair added: "We anticipate the return of pressure on supply chains to deliver products as construction activity remains strong next year, with longer lead times and further price increases anticipated.
"Furthermore, despite precautions being taken at merchants and manufacturers, the rapid increase in cases of Omicron is likely to impact production and operations into the New Year."
Products most at risk include bricks and blocks, which remain in short supply because of rising energy prices.
The update said that demand is expected to be strong "well into 2022", meaning that imports may be needed to make up a shortfall in UK production until new supplies appear in 2023/24.
Manufacturers have also flagged the risk of energy costs increasing the price of cement, particularly during annual winter maintenance shutdowns when supplies can slump.
Merchants are being asked not to deplete their stocks, while manufacturers have committed to producing as much cement as they "physically can", the statement added.
Meanwhile, demand for roof tiles remains high with average lead times of 24 weeks, while congestion at Scandinavian ports risks leading to reduced supplies and higher prices for timber.
And the group warned that pressures on global shipping are set to continue, in addition to ongoing disruption caused by China's 'zero covid' policy.
But the statement had better news on labour shortages in the logistics sector, which it said have eased following the government's additional training schemes and grants for HGV drivers.
Newcomb and Caplehorn said increasing wages and flexible working are attracting more workers into logistics roles, meaning that driver shortages could have less impact on construction next year.
Consultant RLB said in its latest tender prices forecast that stockpiling and early ordering of materials by larger contractors is causing supply issues for smaller firms.
The report, published earlier this month, found that tender prices rose by 4.5% in Manchester this year and by 3.75% in London and the South East.