Chairman tells top brass to expect more details on sale of Australian arm in May too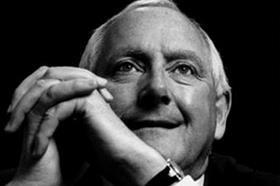 Laing O'Rourke chairman Ray O'Rourke has said he expects to have more details on the sale of its Australian arm in the next couple of weeks.
The firm hoisted the for sale sign over the £1.5bn turnover business earlier this year, signalling an end to a dozen years working in the country and the Pacific Rim.
The Australian arm was set up in 2004 but expanded rapidly three years later after the firm snapped up Barclay Mowlem from Carillion – after the latter decided to pull out of the region following its takeover of Mowlem the year before.
In an update to senior managers, O'Rourke said the sale was progressing "in line with expectations" and promised there will be "more definition on the progress regarding the divestment of the Australia Hub" at the beginning of next month.
Explaining the decision to sell up back in January, O'Rourke said the firm had received approaches for the Australian arm from a number of bidders and added that proceeds from the sale will be used to fund "further UK investments [that] will be required especially in areas that promote our competitiveness and the attractiveness of our offering to clients".
Money will be also be ploughed back into expanding its off-site manufacturing arm which is based at Steetley in Derbyshire.
O'Rourke's update to senior staff also revealed that it had struck a deal with its banks to strengthen its balance sheet. He said the firm had rubber-stamped a new business plan and added: "We also completed an extensive process of sharing this plan with our financial stakeholders. These stakeholders have shown significant support for our business plan by agreeing additional medium term facilities through to October 2018 reflecting their confidence in the direction of the business."
Around 200 staff are expected to leave in the coming weeks after the firm announced a major restructure at its UK business, the details of which O'Rourke said would also be revealed in early May. He added: "The key drivers remain a clear focus on securing major projects and strategic frameworks, improved productivity on our projects, all of which is supported by an efficient overhead cost base."
The firm has been hit by a number of high-profile departures in recent months with chief executive Anna Stewart stepping down just before Christmas, while infrastructure director Gary Wells – who has since been replaced – also left before Christmas. This week it was announced that its major projects boss, Jonathan Goring, had quit after just three months and was moving across to Morgan Sindall to head up the contractor's affordable housing business, Lovell.