Chancellor says spending review cuts in seven departments have not come from capital budgets and will help government to spend more on infrastructure projects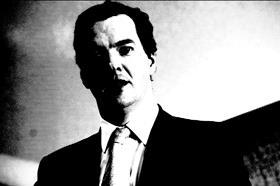 Seven government departments, including the Ministry of Justice and the energy department, have agreed spending cuts with the Treasury ahead of next month's spending review.
George Osborne said he had reached agreement with seven Whitehall departments on savings ministers want to make in 2015, finding 20% of the £11.5bn he wants to cut spending by in the year from April 2015.
According to the BBC, the chancellor still needs to find a further £8bn of the £11.5bn in cuts targetting for the spending review.
The departments which have agreed to make cuts of between 8% and 10% are: Ministry of Justice, the Department for Communities and Local Government, the Department of Energy and Climate Change, The Treasury, the Cabinet Office, the Foreign Office and the Northern Ireland department.
Osborne said health, schools and foreign aid would be protected from cuts. He added that the Department for Work and Pensions, which has already outlined its future savings, will not be targeted again for cuts.
Negotiations over savings are continuing with other big spending departments, such as the Ministry of Defence and the Home Office, ahead of the spending review on 26 June.
Osborne told BBC News the cuts were necessary so that he could "spend on the things people want us to spend on like the NHS, like the infrastructure that's going to create jobs in the future".
He said the cuts were not coming from capital budgets.
Speaking to BBC Radio 4's Today programme, the chancellor said: "We're actually making further savings in the current budget… in order to spend money on the big infrastructure projects, the big road projects.
"The reason why politicians and chancellors have tried to separate these two things is that the temptation for an elected politician is not to spend money on the long-term project which they may not be around to see the unveiling of.
"Actually we're spending more on capital than the previous government planned and indeed more as a percentage of our national income than in the whole previous period of the Labour government.
"So in the end, if you don't try and protect the long-term investment, the temptation for the politician chasing tomorrow's headline is to cut that and not cut the salaries and hold back the salaries of day-to-day spending because that is often politically more difficult."