New facilities at Scottish naval hub unveiled by Chancellor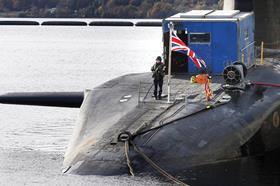 Chancellor George Osborne has announced plans to spend £500m upgrading facilities at the Royal Navy's Faslane base in Scotland.
The new funding will provide ship lifts, sea walls, jetties and other major enhancements at the base over the coming decade and is expected to secure 6,700 jobs.
The work comes ahead of a decision over whether to renew the UK's nuclear deterrent, which currently operates from the base. Work is expected to start in 2017.
Speaking from Faslane, the chancellor said: "[This] announcement of more than £500m demonstrates the UK government's commitment to investing in the infrastructure and capability to ensure that Faslane remains the centre of UK submarine operations for the next generation."
Work at Faslane, despite the size of the contracts, has taken its toll on Morgan Sindall. Last month Morgan Sindall announced a £27m half-year loss due to two legacy problem contracts at the base. Morgan Sindall made a £39.4m exceptional charge for losses on two contracts, which was £4.4m higher than previously expected.
The base is the largest military facility in Scotland, and is one of three major naval yards in the UK. From 2020 Faslane will be home to the UK's submarine fleet.