Chancellor delivers Spending Review packed with policies for construction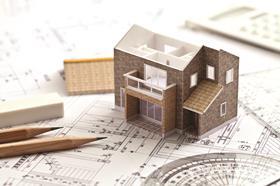 Chancellor George Osborne has said the govenment will double the public housing budget to £2bn a year, as he once again trumpeted the Tories as "we are the builders" in his Spending Review announcement.
Osborne said the government will introduce a number of policies to help people on to the housing ladder, including a new 'London Help to Buy' with Londoners offered a 5% deposit and an interest free loan of up to 40%, and a Help to Buy shared ownership scheme to deliver 135,000 homes.
Osborne confirmed the figure trailed this morning that the government will aim to deliver 400,000 affordable homes this parliament.
There will also be further reforms to the planning system, releasing public land land for 160,000 homes, and new loans for small builders.
There was a big stamp duty rise on buy to let property - a 3% additional charge for those buying additional homes to let, which will raise £3.8bn by 2020.
Osborne set the apprenticehip levy on large employers at 0.5% of employer's pay bill, but employers will be given an allowance to offset against the levy which will see 98% of all employer's effectively pay no levy at all.
The levy is to raise £3bn and fund three million apprentices which Osborne said will "raise the skills of a nation" and "address one of the enduring weaknesses of the UK economy".
Osborne said the government will spend £12bn more on capital spending than previously forecast over the parliament.
There was big news for the green construction sector as Osborne said the renewable heat incentive (RHI) subsidy would be "reformed" to save £700m, while the energy company obligation (ECO) will be replaced with a new scheme that will save £30 off the bills of energy customers.
On prisons, Osborne said £1bn will be spent on building nine new modern prisons. Holloway women's prison is one of the old out-dated prisons that will close, with old prisons to be sold for housing developments.
On education, Osborne said he will spend £23bn on school building over the course of the parliament - £2bn more than the £21bn figure promised at the 2013 spending review. There will also be 500 new free schools and university technical colleges.
On transport, Osborne said the department for transport's current expenditure budget will fall by 37%, but capital spending will increase by 51%, helping to fund the largest roads investment programme since the 1970s. Britain will also get a "permanent pot-hole fund".
Construction of HS2 and the electrification of lines including the Transpenine line will begin this parliament, the chancellor said. A £300m boost for cycling was confirmed and there will be £500m for road maintenance spent during this parliament.
New city deals were announced for Glasgow, Aberdeen and Inverness, and Osborne also pledged 26 new enterprise zones.
Osborne also announced a doubling of spend on energy research, with a focus on small modular nuclear reactors, while support for low carbon electricity and renewables will also double.
Meanwhile, Defra will see its current expenditure budget slashed by 15%, but there will be £250m of investment in flood defences.
"Going green shouldn't cost the earth", Osborne said, as he announced a 22% cut in the energy department's current expenditure budget.
Ebbsfleet in Kent got the go-ahead with a £300m commitment to the new garden city from the chancellor.
From midnight tonight tenants from five housing associations will be able to start the process of buying their own home.
In a major u-turn, Osborne effectively ditched plans to make swingeing cuts to tax credits, after his proposals were defeated in the House of Lords earlier this month.