Government considers funding affordable housing by taking equity stakes in new-build social homes as part of spending review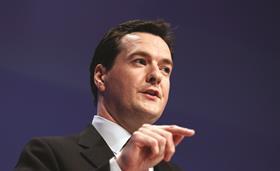 The government is considering a way of funding affordable housing by taking equity stakes in new-build social homes as part of next week's spending review.
Chancellor George Osborne is to unveil the Spending Round next Wednesday (26 June), which will set out departmental budgets for 2015/16 and a framework for capital spending for the next parliament.
Osborne also pledged in the March Budget to set out a framework for the funding of affordable housing until 2025.
According to separate sources, the government is likely to continue with the existing "affordable rent" model of funding social housing, despite reservations about it from housing associations.
However, in addition, the government is likely to announce plans to explore whether it can fund further affordable housing through the use of equity stakes, as it does with the Help to Buy scheme for private sale homes.
For more details on the spending review see Building's analysis here.
Osborne unexpectedly found £3bn of funding for equity loans for private housing in the March Budget as part of the Help to Buy scheme. The size of the funding package was put down to the fact the Office of National Statistics allowed the government to class the funding as a "financial transaction", and therefore off the government's balance sheet in terms of public sector borrowing.
Several sources said the Treasury and communities department were exploring whether a similar methodology could be used to fund affordable housing. However, the details of next week's review are not likely to be finalised until this weekend.
Sources say it has yet to be decided whether funding will increase or be cut.
One senior source said: "The main focus is on the current funding model or a variant of that. However, alongside that there is scope for a model that can be classified as a financial transaction."
The news comes as the Future of London lobby group launched a report into the affordable rent model, saying it would lead to less housebuilding and needed urgent reform.