Chancellor divides critics with £30m fund annoucement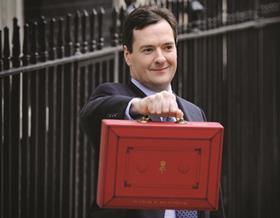 Chancellor George Osborne has announced an extra £30m to fund alterations and repairs of church buildings following a backlash over VAT changes in the Budget.
The Budget announced that the zero-rating that currently applies to approved alterations to listed buildings would be removed and with the 20% rate applying from this October.
But following sustained criticism from the Church of England and heritage groups, the Chancellor yesterday announced that the £12m Listed Places of Worship Grant Scheme would be increased by £30 million in order to mitigate the impact of this move.
The Church of England welcomed the announcement but the National Trust called it "fundamentally misguided" because it will not benefit secular listed buildings.
Ben Cowell, the Trust's deputy director of external affairs, said: "Listed buildings are by definition public goods. They help to create distinctive and special places and contribute hugely to our tourist economy, which is one of the biggest creators of jobs and growth in the country.
"While no-one would pretend that the current VAT regime is straightforward, the proposal to eliminate the zero-rating for approved alterations will cause considerable harm. It is also likely to strike a major blow to the conservation industry, reducing the amount of work that is undertaken on listed buildings up and down the country.
"Increasing the Listed Places of Worship Grant Scheme is welcome but by itself is not enough, as it only provides retrospective compensation to help meet the needs of religious buildings and does nothing for the thousands of secular listed buildings"
But Bishop of London the Right Reverend Richard Chartres applauded the government's latest move, calling it "recognition of the massive contribution made by congregations up and down the land to the life of their communities".