George Osborne says new City Devolution Bill will be at the heart of government's Queen's Speech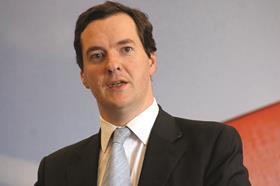 George Osborne has proposed radical devolution of central government powers to English city regions, Scotland and Wales, in a move he said would give "power to the working people".
Speaking at Victoria Warehouse, Manchester, the chancellor said it was time to close the "decades-old economic gap between the north and south". The chancellor also promised to deliver devolution to Scotland and Wales.
Osborne announced plans to devolve power over policing, skills, housing, and transport to the cities,as well as a £6bn health and social care budget.
A central part of the Queen's speech on 27 May will be given over to a new City Devolution Bill "to enable a new model of city government".
James Wharton, newly-appointed minister for the northern powerhouse in the department for communities and local government is to take the legislation through Parliament.
Wharton will be assisted by top economist Jim O'Neil who has been appointed to the Treasury as commercial secretary to drive forward the changes, replacing well-respected infrastructure tsar Lord Deighton.
Osborne added that while it is of benefit to the country that London is one of the great global cities, "radical action" needs to be taken to build up the rest of the country as the "economy has become unbalanced".
These new powers will be led by elected mayors who will provide leadership and accountability. However, this new model will not be imposed on the cities.
Greater Manchester will be the first city to have an elected mayor and take part in the "Northern Powerhouse" blueprint, following the agreement of the area's ten councils. Osborne said he hoped this would also give the city "a powerful new voice in national life" as well.
Around a year ago Osborne first spoke of creating a "Northern Powerhouse" at the Museum of Science and Industry in Manchester.
The idea is to band together the cities of the North, such as Leeds, Sheffield, Liverpool and Yorkshire to create a collective force to rival London and the South East, as well as other cities in the world.
However, Osborne noted that he could not offer devolution settlements to every major city simultaneously or force elected mayors on the cities. It simply would not work. He did though challenge them to control of their own affairs and to work together.