Former minister accuses chancellor of attempting to walk away from zero carbon homes target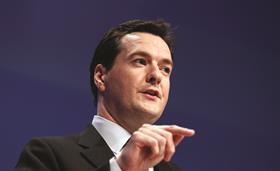 Chancellor George Osborne attempted to block the government's commitment to the 2016 zero carbon target, according to a former communities department minister.
Speaking at a roundtable event organised by Building and the UK Green Building Council, former regulations minister Don Foster said Osborne had only agreed to stick to the target for all new homes to be zero carbon by 2016 in return for ditching proposals to introduce consequential improvements into building regulations.
These proposals, launched by the communities department last year, would have ensured that all domestic building work beyond a certain size would trigger a requirement to upgrade the energy efficiency of the rest of the house, but were dubbed a "conservatory tax" in the national press.
The consequential improvements policy was formally dropped in December last year.
Speaking at the event, Foster also said the consultation on the uplift in Part L of building regulations, which covers energy performance and was finally published in August, had been delayed by wrangling with the Treasury.
He said Liberal Democrat influence in the Coalition ensured that it was retained. "It did take some time to get the uplift in terms of Part L for domestic and non-domestic, but we got it," he said.
"Much more significantly in the chancellor's announcement [on Part L] was one sentence, which I won't begin to tell you how long I had to work to negotiate to get [in the announcement], [which was] the chancellor, stood at the despatch box, saying we are committed to zero carbon homes by 2016."
He added this negotiation also secured permission for the consultation on allowable solutions, which will let housebuilders meet the zero carbon target by investing in alternative energy saving measures, to get underway.
However, he said this was all at the cost of dropping consequential improvements. He said: "Of course there are downsides, because in coming to that deal some things I was very keen to do, and Andrew [Stunell MP] worked very hard for, but was not achievable, was consequential improvements."
According to a ministerial briefing prepared by the communities department, the introduction of consequential improvements would have driven 2.2m homes to take up the Green Deal.
The news comes a day after prime minister David Cameron pledged to "roll back" green charges on energy bills and amidst increasing concern over anti-green rhetoric from senior Conservative Party politicians.
John Alker, director of policy at the UK Green Building Council, said: "This is a candid insight into just how obstructive George Osborne has been, even in the face of overwhelming evidence and industry support for policies that are both pro-green and pro-growth."
Foster made his comments while still regulations minister at a roundtable run at the Liberal Democrat Party Conference, one of three ran at each of the mainstream party conferences.
For a full briefing on the roundtable series, click here