CIPS/IHS Markit PMI also says February was ninth consecutive month of growth in new orders, although costs are increasing
Construction output has bounced back thanks to a resurgence in the commercial sector, which has seen the sharpest rise in activity since September.
Overall activity in February rebounded from the previous month's disappointing performance, with the IHS Markit/CIPS UK construction total activity index hitting 53. A hike in commercial work offset a slight slowdown in housebuilding growth, while February also represented the ninth consecutive month of growth in new orders.
In January the construction index dipped below the 50.0 no-change mark for the first time since last May.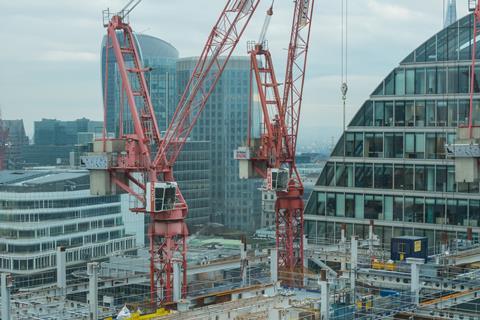 Tim Moore, economics director at IHS Markit, said: "Construction work regained its position as the fastest growing major category of UK private sector output in February.
"The rebound was supported by the largest rise in commercial development activity since last September as the successful vaccine rollout spurred contract awards on projects that had been delayed at an earlier stage of the pandemic."
Residential work remained the strongest area of growth, although the speed of recovery eased slightly since January. There were some reports citing temporary delays on site arising from adverse weather and supply chain issues, especially for timber.
The slowdown in housebuilding growth was offset by a slower fall in civil engineering activity as well as the rise in commercial work.
February's expansion in new orders has been welcomed as an acceleration on the previous month.
Gareth Belsham, director of Naismiths, said the latest figures appear to show January's activity dip to be a blip: "The construction industry clicked straight back into gear in February, posting a solid jump in output. More exciting still, the pace of new orders accelerated even further."
He also pointed to figures that show the rate of job creation at its fastest since March 2019.
"With construction firms steadily starting to recruit again, the industry is clearly responding to the prime minister's call for Britain to 'build, build, build' its way back to economic growth."
The IHS Markit/CIPS' report also stated that sentiment among its survey respondents has been boosted to a five year high by improving order books and the feeling that the vaccine rollout will release pent up demand.
But the industry has been warned that it must not get carried away, with Mark Robinson, group chief executive at Scape, saying the sector should not be lulled into a false sense of security by the return to growth.
He said: "While the easing of restrictions is likely to stimulate an increase in output in the coming months, a steady stream of investment in communities and infrastructure is still necessary to ensure the construction industry can support and sustain long-term economic growth.
"The immediate £12bn earmarked for the Treasury's new National Infrastructure Bank will play a vital role in that respect but the projects this will enable need to be identified as soon as possible if we are to achieve the regeneration needed post-pandemic."
In fact, while activity grew and improved from January, when the index sat at 49.2, the market was still below the December level of 54.6.
Purchasing prices also boomed with respondents citing an imbalance of demand and supply, alongside inflationary pressures from the pass through of higher transportation costs as the main drivers.
Stretched global supply chains, greater shipping charges and rising commodity prices all contributed to the sharpest increase in average cost burdens across the construction sector since August 2008.
Extended supplier lead times also persisted in February as vendors struggled with transport delays and stronger demand conditions.
But Robinson added that the government's new 'super deduction' tax relief, which was announced as part of yesterday's budget, should also encourage contractors to invest for growth and allay fears about the increase in corporation tax.