Latest IHS/CIPS data says market softening in face of triple threat
Construction's recovery from the pandemic cooled further last month with materials shortages and problems getting hold of lorry drivers again putting the brakes on sector output.
The latest PMI data drawn up by IHS Markit and CIPS said total activity for August stood at 55.2, down from 58.7 the month before, and a fall of more than 11 points from the 66.3 figure recorded in June, a 24 year high which is increasingly looking like a one-off score.
It was the fifteenth consecutive month that output had gone up but the rise was the slowest growth since February with firms having ongoing problems getting hold of materials and then transporting them to site because of a lack of lorry drivers as well as other freight-related issues such as congestion at ports.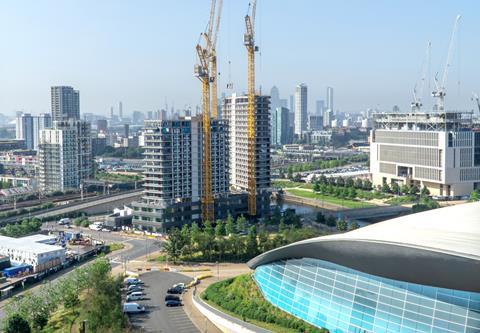 The survey said the cost of materials had gone up by the second fastest rate in its 24 year history with concrete, steel and timber all being hit by sharp rises with the cost of labour also heading north.
Commercial work was the best performing sector with a score of 56, followed by housebuilding at 55 with civil engineering lagging behind for the fourth month in a row with a score of 54.8.
Jan Crosby, head of building and infrastructure at KPMG, said: "A perfect storm continues to hamper availability of materials and labour across the sector in the UK. The industry is telling us that this is one of their biggest concerns right now, and that supply chain delays are preventing them from taking on new work to grow their construction businesses at a time when the economy is bouncing back.
"The ongoing lorry driver shortages and lack of stock mean these supply versus demand worries aren't going away quickly."
He added that HS2 was also gobbling up supplies of cement and construction equipment while sites in the south, especially those in London, had been hit by the impact of Brexit and exodus of EU workers.
And Max Jones, a director in Lloyds Bank's infrastructure and construction team, said the problems were again showing up the buying power of bigger firms compared to their smaller peers.
"Threats to contractors' confidence come in the form of the twin worries of labour and materials shortages. While the former is more peripheral for now, supply issues mean those with deeper pockets are buying up materials months in advance, leaving less for the rest of the industry for the here and now.
"Those with strong balance sheets are in a more robust position when bidding for contracts and can secure better margins as a result."
The survey said clients had also been spooked by the volatility in materials price and Fraser Johns, the finance director of £135m turnover regional contractor Beard, admitted: "With the slowest level of growth in five months and now client confidence dampening as a result of the uncertainty over supplies, it feels a long way from the wave of optimism felt at the end of 2020 and into Q1 this year.
"We don't look to be turning a corner any time soon on the supply crisis, so it's key for the industry to pull together and collaborate right through the supply chain to try to lessen the impact of these issues."
But despite the problems, firms remained optimistic about the year ahead with more than believing that output will continue to rise in the coming 12 months as more public sector schemes get up and running as well as the ongoing housing market boom and an increase in infrastructure work.