Lifschutz Davidson Sandilands' scheme will redevelop a run of buildings into retail and office space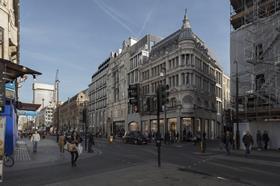 Westminster City Council has approved plans for the redevelopment of a run of buildings fronting Oxford Street that will feature close to 9,000 q m of retail and office space.
Architect Lifschutz Davidson Sandilands' scheme for Daejan Investments covers a block between Wardour Street and Berwick street and will preserve parts of a grade II-listed building on the site. The façade of another locally-listed structure – Berwick House – will be jacked up by 1.2m to "assimilate levels through the site", LDS said. The grade II-listed Ilford House is aso part of the job.
Campaign group the Victorian Society objected to the scheme, which will be up to six storeys in height, because of its impact on the listed buildings and the "unjustified" loss of other buildings on the site.
JLL is planning consultant and project manager for the scheme, structural engineer is Heyne Tillett, Hilson Moran is steel services engineer.