City council votes to set 37m height limit in traditionally low rise city following backlash against 180m-tall Le Triangle
Paris has banned tall buildings for a second time following a backlash against Herzog & de Meuron's controversial 48-storey Le Triangle tower.
The city council passed a height limit of 37m for new buildings across the French capital on Monday evening as part of a new urban plan which aims to reduce the city's carbon emissions.
The rule, which is being backed by Socialist party mayor Anne Hidalgo and her Greens party partner, will revive the same 12-storey limit that was imposed on the traditionally low rise city in 1977 following the construction of the much-maligned 210m-tall Montparnasse tower.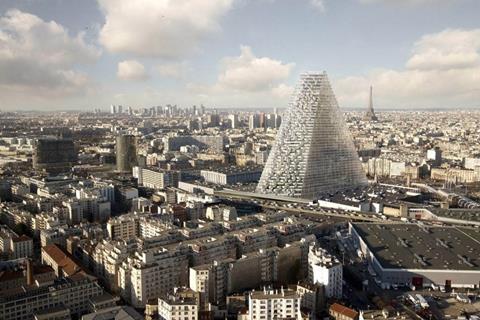 Herzog & de Meuron's 180m pyramid-shaped tower started construction in 2021 after 13 years of planning and legal delays caused by opponents of the scheme.
Together with Jean Nouvel's completed Duo twin tower scheme, it has been the emblem of the council's drive to cap building heights.
Designed for developer URW, Le Triangle will be the city's third tallest building when completed in 2026 after the Eiffel Tower and the Montparnasse tower. The 91,000 sq m building will contain a hotel, offices, a conference centre, shops and restaurants.
URW has claimed the tower "incorporates the highest environmental construction standards" and has a "carbon emissions trajectory in line with the Paris climate agreement objectives".
But Greens councillor Émile Meunier said there was "no such thing as an ecological tower".
"Because we never want Triangle and Duo towers again, because we have to stop concreting Paris and its sky, environmentalists have included in the future [local urban plan] a maximum height of 37m (12 floors), returning to the historic ceiling of 1977."
He said the plan will "mark the end of towers" in the city and reimpose a "reasonable" height, describing yesterday's vote as a "cultural victory for ecologists".
Hidalgo said the "bioclimatic" plan, which includes projects for more green space and public housing, aims to ensure Paris remains an "attractive and pleasant in coming years despite the acceleration in the temperature".
Unlike London, central Paris has preserved its low-rise character while allowing tall buildings around the fringes, notable the cluster of towers in the Défense financial district.
The 1977 height limit stayed in place until 2010, when then mayor Bertrand Delanoë lifted the ceiling to 180m for office towers and 50m for housing.
Jean Nouvel said at the time: "This is not about undermining our heritage. But we have to stop thinking that Paris is a museum-city. Paris is not finished… If vertical buildings can enrich the heart of the capital, why deprive ourselves?"
Herzog & de Meuron is also behind highly contested £1.5bn proposals to transform Liverpool Street station which include a 15-storey tower above the grade II-listed Andaz hotel. Plans for the scheme were sent in to City of London planners this spring.