A major review into the programme has been pushed back to next month
The team responsible for the Palace of Westminster restoration and renewal programme has no idea of the likely cost of the work, or even how long it could take, Building can reveal.
A source said that it would take at least two years of "hard work" to produce an outline business case "which will have in it costs for which we can be certain and therefore people can make choices".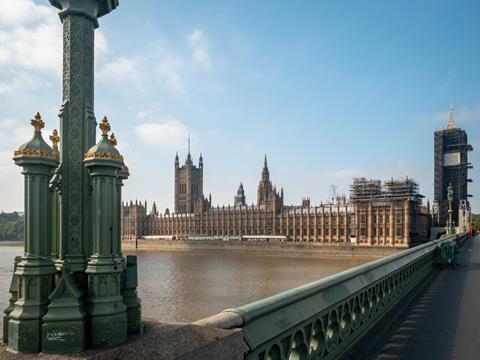 They added that the team will not be drawn on costs before an outline business case is presented "despite people putting a huge amount of pressure on us to do that".
The source claimed that Stephen Dance, director of the commercial adviser team at the Infrastructure and Projects Authority, briefed Number 10 on the possible costs of the programme last year.
Dance's decision to give what amounted to a guestimate of costs – in the range of £10bn-£20bn – was not welcomed by those working on the programme and prompted a row with the IPA, they said.
The Westminster refurb programme has been linked with a £4bn cost figure since an Independent Options Appraisal was done by Deloitte back in 2014.
The source added: "The numbers that Deloitte came up with in the Independent Options Appraisal were not costings, they were broad indications and we've been having to live that down ever since and point out to people that they were not costings, they were indicative.
"You cannot come up with a firm cost until you have done a whole lot more work and until you have decided what exactly you want to do."
The outline business case will show whether £4bn "was a realistic assumption, what we think a realistic figure will be and how we prove that that figure is as good as it gets in terms of value for money".
As with cost, a realistic timescale will not be known until the outline business case is done, they said. BDP is carrying out architectural and building design services on the Palace of Westminster, alongside consultant CH2M, later bought by Jacobs, which is working on programme, project and cost management services.
The inability of the programme to provide a credible costing or timescale comes amid a strategic review of the future direction of the programme.
The review was supposed to be released this month but has been pushed back to February.
It will outline a series of recommendations aimed at minimising future costs, such as accessing the Palace from the river to reduce the time that MPs and peers will be unable to use parliament.
It comes in the wake of the decision by parliament to scrap the £500m Northern Estate Programme little more than 18 months after it was launched, amid reports it was expected to cost twice what was expected.
The NEP set out to upgrade various buildings across Westminster to serve as temporary homes for MPs and staff to enable the Palace of Westminster refurb to begin.
This work was being done by Wates on a number of listed buildings. The original plans for Richmond House, the former Department of Health building on Whitehall, to be used for a temporary Commons chamber, are also in doubt. Designed by AHMM, it is to be built by Lendlease.
But Building understands that a draft of the review recommended that MPs and peers should share Richmond House and that plans to use the Queen Elizabeth II Centre as a temporary home for the House of Lords be abandoned.
Meanwhile, speculation is mounting over the possible cost of the programme. Meg Hillier, chair of the public accounts committee, recently told Building the cost could be "at least" £12bn.
"We've got to be honest with the British public – yes it's going to be costly, you can't do this on the cheap. Not doing it isn't cheap, there's no cost-free or cheap option now and the longer we leave it the more it will cost the taxpayer."
Hiller commented: "The key thing is to get the go ahead to make sure that we are understanding what the scale of the task is."
Sarah Johnson, chief executive of the Restoration and Renewal Sponsor Body, and David Goldstone, chief executive of the Delivery Authority, in a letter to Hillier earlier this month, said the review will recommend "innovative new approaches to help achieve a best Value for Money approach, saving the Houses of Parliament while minimising costs". It will conclude that a full decant of MPs and peers is needed to enable works to be done more quickly and easily.
But an appendix to their letter reveals the magnitude of the work that needs to be done to enable a credible and realistic estimate to be done. More than 25 "high priority surveys required to start as early as possible" have yet to even begin. These include a "structural intrusive investigation" which is not scheduled until late this year and is expected to take at least 37 months. And thermographic, asbestos, BIM and space utilisation surveys are described as "ongoing."
In a statement to Building, a Houses of Parliament restoration and renewal spokesperson said: "Restoring the Houses of Parliament will create thousands of jobs across the country. The review will provide clarity about the way forward so we can continue developing the approach to the restoration. We will bring forward a plan - the Outline Business Case - that will for the first time provide detailed, evidence-based estimates of costs and timescales for Parliament to consider once all investigations are complete and designs agreed. In line with best practice and guidance from the NAO and IPA, this detailed plan will explore a range of options based on extensive investigations, surveys and analysis with a strong focus on a 'do minimum' option."