Controversial scheme for 980 homes in Islington filed with council
Peabody has submitted plans to Islington council for its controversial 980-home redevelopment of the former Holloway women's prison in north London.
The housing association said the AHMM-designed scheme, which has been funded to the tune of £42m by the Greater London Authority, will be 60% affordable housing, with 415 homes let for social rent.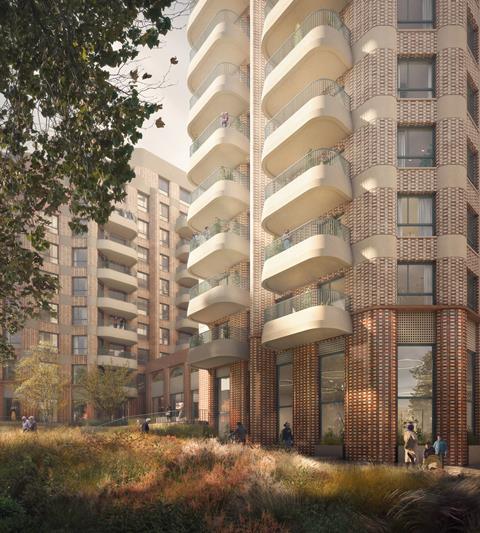 Peabody said the development, set in a series of blocks, will have over 2,000 cycle spaces and include parks, private gardens and green roofs. It will also include a "women's building" community facility, designed by a women-only design team of experienced architects led by AHMM's gender equality champion Patricia Ribero.
However, the association's proposals for the 4ha site were criticised in the summer for not sufficiently reflecting the site's heritage as home to the Europe's largest women's prison.
Campaigners Reclaim Holloway and others criticised the decision to make the women's building a single storey under a residential block. Helen Aston, a senior lecturer at Manchester School of Architecture, said it was "dismissive, arrogant and patronising" that the design process was not being carried out by a female-led architectural practice.
A spokesperson for Peabody said the size of the women's building had been increased to 1,489 sq m in response to feedback to its consultations, with the developer having also reduced the height of the proposals to under 30m for most of the buildings.
Peabody said it hoped to start work on the redevelopment by the end of 2022, creating 51 apprenticeships, with 30% of these for women.
The spokesperson said that long-term careers for women in the construction industry were an "important part of the legacy" of the scheme.
Following the consultation, the scheme will include 60 extra care one-bed homes, with the majority of the social homes being two and three-bed properties.