In its first update since Jeff Fairburn left, the housebuilder also said it gave £732m back to shareholders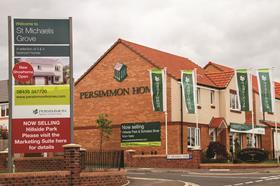 Persimmon has said its 2018 pre-tax profits will be higher than expected as it revealed its revenue grew by 4%.
The trading update is the housebuilder's first without Jeff Fairburn at the helm, after the former chief executive stepped down at the end of last year after months of damaging headlines about his £75m bonus.
Now Persimmon has announced its turnover has grown to £3.74bn, with forward sales for the year standing at £1.4bn – up 3% on last year.
The average selling price of a Persimmon house increased by 1%, up to £216,000, while the level of capital returned to shareholders increased by 76%, up to £732m.
Persimmon also said its brick factory in Doncaster was nearing optimal production levels, while its tile manufacturing plant on the same site will start deliveries in the second half of the year.
The firm made one reference to Brexit in its update, telling investors that it has been wary of the economic risk posed by Brexit when buying new land, in total 17,000 plots across 80 sites in 2018, for later development.
But Persimmon, the UK's most valuable listed construction company, with a market capitalisation of £7.1bn, presented a cautiously optimistic outlook.
While it acknowledged "increased levels of uncertainty" about the UK economy, it said: "The UK housing market has continued to benefit from robust employment levels, low interest rates and a competitive mortgage market, which have supported confidence and customer demand across the regions."
Alasdair Ronald, senior investment manager at Brewin Dolphin Scotland, said: "It's another good set of figures from Persimmon.
"While margins are believed to be close to the top, they remain healthy – Persimmon is able to maintain them by increasing the use of materials produced by its subsidiaries and directly employing labour. The business continues to offer some of the highest returns in the sector and remains the blue chip option among housebuilders."
It is due to unveil its 2018 results on 26 February.