Irish firm Grafton beats Chipperfield and Hadid to pick up inaugural award
Irish practice Grafton Architects has won the first ever RIBA International Prize for a "vertical" university campus in Peru.
The prize has been relaunched after the RIBA dropped the Lubetkin Prize last year which had been going for eight years.
The firm, which earlier this year beat a host of star names to land a £100 million schemes for the London School of Economics, won with a college building, called UTEC, in Peru's capital Lima.
Among those beaten were three British practices – David Chipperfield Architects' Museo Jumex in Mexico's capital Mexico City; Stormen Concert Hall in Bodø, Norway, by DRDH, and Zaha Hadid Architects' Heydar Aliyev Centre at Baku in Azerbaijan.
Others to miss out a war memorial in France by Agence d'Architecture Philippe Prost; an arts complex in the Azores by Portuguese firm Menos é Mais.
The prize's grand jury included chair Richard Rogers, US architect Billie Tsien and NLÉ founder Kunlé Adeyemi.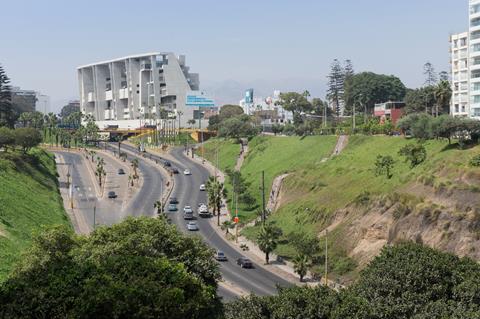 Judges' citation
University of Engineering campus (UTEC) is an exceptional example of civil architecture - a building designed with people at its heart. Grafton Architects has created a new way to think about a university campus, with a distinctive 'vertical campus' structure responding to the temperate climatic conditions and referencing Peru's terrain and heritage.
Sitting on the border of two residential districts in Lima, in section UTEC perches tantalizingly on the edge of a ravine. Seen from across the ravine it is as bold and as pure a statement of the symbiosis between architecture and engineering as could be imagined; a piece of geology imposed on its pivotal site, mirroring the organic curve of the landscape and accommodating itself in the city. To its close neighbours, it is a series of landscaped terraces with clefts, overhangs and grottos, a modern day MachuPicchu.
UTEC has been designed to encourage its students to interact in a unique way with the building. The vertical structure provides open circulation and meeting spaces in a succession of platforms that compose the 'frame' of the building; teaching rooms, laboratories and offices are enclosed, inserted into and suspended from the exposed concrete structure. The frame is a device providing shade, a place of rich spatial exuberance and a platform from which to view the life of the city. The entire life of this vertical campus is on full display to the people of Lima.
[The campus] is the culmination of years of experimentation by Grafton Architects. In this building they show the mastery of their craft, gifting Lima with a bold yet considerate contribution to the city and a visionary, world-class building.