Communities secretary uses party conference speech to hail an increase in residential planning applications submitted in the last year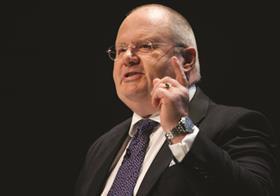 Eric Pickles used his speech at the Tory party conference in Birmingham this week to hail an increase in residential planning applications submitted in the last year.
The communities secretary said 230,000 homes received planning permission in the last year, the highest since the crash of 2008. Figures from the Home Builders' Federation (HBF) suggest that applications for 192,000 homes were approved in 2013, meaning Pickles' figure suggests a rise of around 15%.
According to the HBF the number of new homes gaining planning permission hit a low of 147,000 in 2009.
However, the receipt of planning permission doesn't guarantee construction will start, with land speculators often gaining permission simply to allow them to resell land.
In addition, with the trend for a larger percentage of approvals to come from larger sites, it may be many years before homes are built out.
In his speech, Pickles ridiculed the Labour Party's record of building homes in government, and said: "Rather than set national targets for home ownership and house building, we are getting on with the job of delivering.
"Two hundred thousand affordable homes have been built under this government. And more council houses have been built than under 13 wasted years of Labour.
His speech followed the controversial launch by prime minister David Cameron of a commitment to build 100,000 "starter homes" which would be 20% cheaper than market rates and avoid incurring regulatory charges and the need to meet the zero carbon standard.
Pickles said: "For future generations who work hard and want to get on, we make a commitment: We will support you to buy your first home."
The new policy, called Help to Buy: Starter Homes, has been criticised by affordable housing bodies and environmental groups for seeking to avoid meeting common standards and affordable housing requirements.