Crossing would link Rotherhithe with Canary Wharf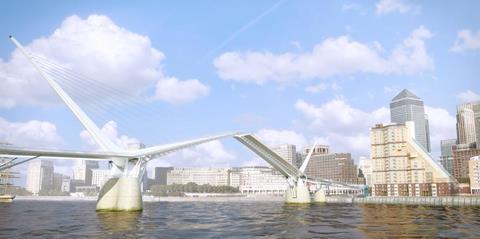 Southwark-based practice Reform Architects has completed a feasibility study for a new £88m cycle and footbridge across the river Thames in east London.
The study was commissioned by cycling charity Sustrans this summer after the government said last year it was interested in a proposed crossing.
The preferred location has been identified as between Durand's Wharf in Rotherhithe to the Impounding Lock in Canary Wharf.
It would be the first opening bridge to be built on the Thames since Tower Bridge in 1894 and the first dedicated pedestrian and cycle bridge to cross the river.
The bridge would have a central span of 184m, opening to create a completely unobstructed opening of unlimited height for the largest vessels.
Ramps would rise from each bank and cross the water's edge to form an approach to the opening section of the bridge with two 5m wide decks continuing either side of the main cantilevered 'arms', providing continuous separate routes for pedestrians and cyclists.
A new bridge would mean office workers at Canary Wharf travelling by bike or foot from the south would no longer face detours to Tower Bridge and the Greenwich foot tunnel or even being forced to use the Rotherhithe Tunnel.
Analysis by Sustrans predicts that by 2020 there would be approximately 2.1 million bicycle journeys each year or 10,500 per day across the bridge and more than one million by foot.
The design has been prepared in consultation with Transport for London, London Underground, the Port of London Authority and the Canal & River Trust.
Others to work on the study include engineers Elliott Wood and cost manager Arup. Construction would take up to five years.
Source
This story first appeared on Building Design