TfL minutes also reveal cost of retrofitting Canary Wharf station has hit £75m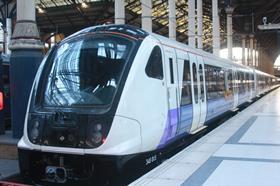 A timetable for having Crossrail trains run from Shenfield to Paddington is expected to be revealed this autumn.
And minutes from Tranpsort for London also reveal that £75m has been spent making Canary Wharf station safe with the work expected to swallow more cash.
While Crossrail chief executive Mark Wild has promised that the central section of the railway will open by March 2021, there has been no announcement about when trains will run the full length of the line – from Shenfield and Abbey Wood in the east to Reading and Heathrow Airport in the west.
Minutes from the most recent meeting of Transport for London's Programme and Investment Committee reveal the stages in which the line will see trains running on it.
Stage 4, which will see trains run on the central London section of the line from Shenfield to Paddington directly without the requirement to switch at Liverpool Street station, was originally due to open by May of this year.
And Stage 5, which will allow for services to run the full length of the line, was due to be up and running by the end of this year.
The minutes also reveal further details of the ongoing retrofit work being carried out at Canary Wharf Crossrail station.
They said: "The Canary Wharf retrofit was required as the station had not been built to the requisite safety standards.
"TfL had spent £75m, and it was envisaged that more would be required, to replace or install essential safety critical systems to meet [fire safety] requirements."
A spokesperson for Canary Wharf has previously told Building: "When practical completion was reached and accepted by Crossrail in September 2015, Crossrail complimented Canary Wharf Group on the quality of its workmanship and materials used.
"At no stage over the last four years has there been any communication to us of an additional £80m spend or dissatisfaction with the quality of workmanship."
Crossrail stages
Stage 1: New trains start operating between Shenfield and Liverpool Street
Stage 2: New trains to start operating on the usual tracks between Heathrow and Paddington, via Southall and Ealing
Stage 3: The all-new tunnels under central London open but:
Trains from Heathrow will still terminate at Paddington

Trains from Shenfield will terminate at Liverpool Street

Trains from Abbey Wood will run straight the central section, before stopping at Paddington

No services running from Reading and Slough
Stage 4: Trains from Shenfield will no longer terminate at Liverpool Street, and will continue through the central section to Paddington, where all trains still terminate
Stage 5a: Introduced after the delay to Stage 3 was announced, this stage will see Crossrail trains operating between Paddington and Reading from December 2019
Stage 5: A non-stop train journey from Reading to Shenfield will be operating