Redrow and Wates submit plans for 1,500 homes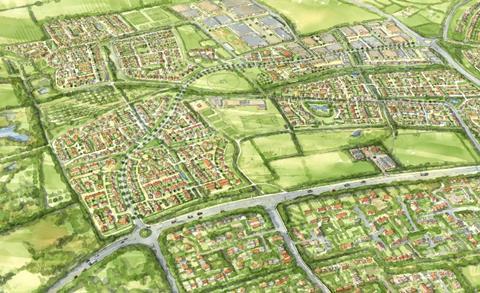 Redrow and Wates have submitted outline plans for 1,500 homes as part of Bicester's garden town initiative.
The Wretchwick Green scheme also incorporates a primary school and district centre including a community centre, local shops and a day nursery. Of the 1,500 homes, 450 are affordable.
A major element of the proposal is green infrastructure with over 150 acres greenspace being provided ranging from large areas of general open and sports space to over 50 acres of ecological enhancement.
A spokesperson for the Langford Village Community Association Highways & Planning team said: "The LVCA has welcomed the consultative and collaborative approach adopted by Redrow and Wates so far. Whilst we await seeing the new plans, they have listened to residents' concerns and we look forward to further discussions regarding the scale and impact of the proposed industrial and commercial premises forming part of the scheme."
A spokesperson for Redrow and Wates Developments said: "With the need for housing provision in the UK remaining acute, we are encouraged to be bringing forward Wretchwick Green as part of the broader 'Garden Town' initiative in Bicester."