Architect SOM's 57-storey block would be City of London's third-tallest building
SOM has submitted proposals for a 57-storey City of London office tower nicknamed "Cheesegrater 2".
The scheme, formally named 100 Leadenhall Street, would be a stone's throw from RSHP's original Cheesegrater and KPF's Scalpel building, both of which also feature facades angled to fit in with protected views of St Paul's Cathedral.
If approved in its current form, the 263.4m tall proposal would be the third-highest structure in the Square Mile's construction pipeline, measuring up at 41m shorter than Eric Parry's 1 Undershaft and 31m shorter than PLP's 22 Bishopsgate.
SOM's proposals were drawn up Hong Kong-based firm Lai Sun Development's Frontier Dragon subsidiary. They would deliver 102,000sq m of new office space, 882sq m of retail space and accessible public viewing areas – along with a bar and restaurant – on the building's top two floors.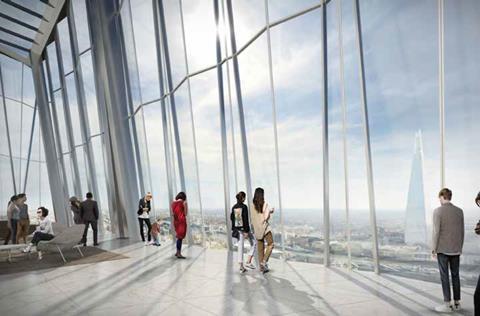 The practice – whose London office is in its self-designed Broadgate Tower, a few hundred metres away from the proposal site – said it had been appointed to design the 100 Leadenhall Street scheme in 2016, following an international design competition.
"The building will have a considerable presence in Leadenhall Street, and the aspiration is that the architectural character should be sympathetic to the strong street wall condition that exists east of the site along this major thoroughfare," the practice said in its design and access statement supporting the application.
"The building will also form the most easterly tall building in the cluster to date, playing an important role in defining the cluster visually."
It said that key elements of its brief from Lai Sun had been to create a "tall, elegant, efficient and commercially viable building" that had the potential for some trading or dealing floors at its lower levels, and that public realm creation and improvement would be a "critical element" of the scheme.
SOM said particular attention had been placed on the potential to open up to the Swiss Re Plaza and to improve the setting of the neighbouring grade I-listed St Andrew Undershaft Church.
"There is also a requirement to integrate with the public-realm proposals of neighbouring developments including 1 Undershaft and The Scalpel," the practice said.
SOM said Lai Sun had spent a number of years assembling the 0.4ha site for the project, bringing together Nos 100, 106 and 107 Leadenhall Street, which are office-and-retail buildings ranging in height from six to 10 storeys.
The proposals are open to public consultation until early April, and the City of London has indicated that it expects to determine the application by the end of June.