But listing bid could halt watershed demolition of Marble Arch flagship for new 10-storey complex
Plans to redevelop the flagship Oxford Street branch of Marks & Spencer are set to be approved by Westminster council tonight – if planning committee members follow officers' advice.
Pilbrow & Partners' proposals would see the demolition of M&S's main Orchard House building, which dates back to the 1930s, and two other connected structures, to make way for a new 10-storey mixed-use building featuring retail space, office space, and café or restaurant space. An arcade would link Oxford Street to Granville Place at the north of the building.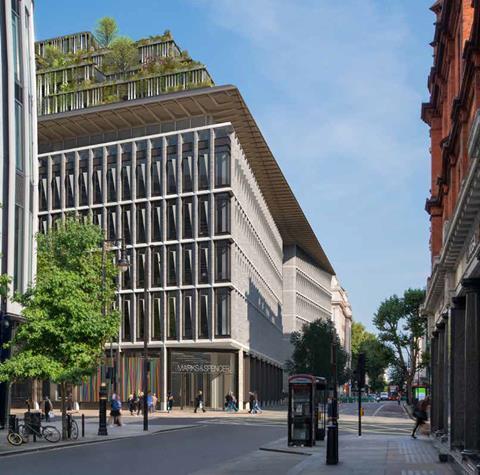 The new building would have a gross internal area of 60,777sq m – almost double the 35,591sq m of floorspace provided by the structures it would replace.
And in a watershed moment, the amount of retail space at the site would more than halve from 13,653sq m, with office space – at 45,621sq m – becoming the dominant use.
In planning documents, M&S said new workspace "will support the evolution of Oxford Street as a successful mixed-use destination" and "marks a key project in the wider regeneration of Marks and Spencer's [959] store portfolio".
But government heritage adviser Historic England has voiced concerns about the scheme's impact on the neighbouring Selfridges department store, which is grade II* listed – and has also compiled a listing application for Orchard House that is currently awaiting ministerial determination at the Department for Digital, Culture Media and Sport.
However, Westminster planning officers are advising planning committee members to give their backing to the M&S proposals, pending the outcome of the listing bid.
A report to councillors said that although the proposals were likely to result in a "significant reduction" of retail space on the site, Oxford Street was facing a number of challenges from rival retail hubs, such as Westfield, and online shopping.
Planning officers said the office proposals would introduce flexibility to the site in terms of its uses, create up to 2,000 jobs, and "hopefully secure the long-term future of Marks & Spencer on the site".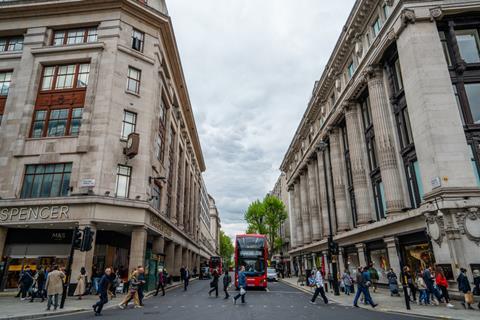 The report said that six-storey Orchard House had been designed by Trehearne & Norman and speculatively built, with M&S taking space in the basement and part of the ground floor. The retail giant, which earlier this month returned to the black with a £187m interim pre-tax profit and is forecasting full year profit of £500m, did not take over the whole building and extend its operations to the north of the site until 1967.
Others working on the scheme include QS and project manager Gardiner & Theobald, access consultant Buro Happold and structural engineer Arup.
Earlier this month Westminster backed PDP London-designed proposals for the redevelopment of the House of Fraser department store near Oxford Circus, which will see the existing building refurbished and extended to provide six floors of offices above a revamped retail offer.