Worried relatives have contacted Building and taken to social media to demand action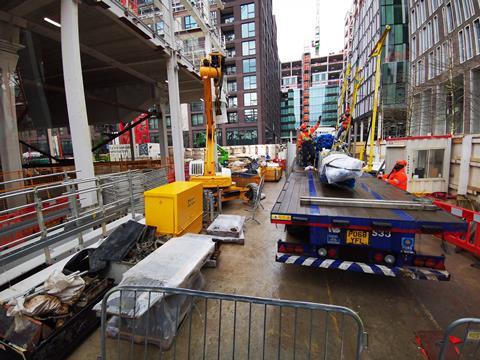 People still turning up for work on construction sites who are worried about their safety are pleading for them to be closed in the wake of the government's wider lockdown. They are also asking for financial help for those who will be left in the lurch.
Many workers and their families have reached out to Building, while others have taken to social media to share their fears and concerns for their families, both from a health perspective and financially.
>> We want to hear your stories: Are you or your loved ones still working on site? Are any measures being put in place? Email building@building.co.uk
In an email to Building, one mother raised concerns about her son - who is required to continue operating on a site where a co-worker has tested positive for covid-19.
"My son still has to work. If he doesn't he doesn't get paid! What channels can I take to get help? I've just spoken to my son and he's obviously very worried and frightened"
Another woman sent a message to Building via Facebook, asking why no one was thinking about the hire equipment that builders use.
"My husband collects and delivers mini diggers and 360's etc to building sites and the general public. While he wears gloves and overalls no one can guarantee that the last person to use that machine was not infected and hadn't left the virus from coughing all over the inside of the machines can. My husband gets into the cab and loads it onto his lorry. Then with the same overalls on he gets into his own lorry and if he's picked up the infection then his overalls have put it on his lorry, he then delivers the machine back to his depot or out to another customer. The machine is not sanitised. There is risk to builders, public , the lorry drivers moving the machines and everyone's families. I cannot seem to get this through to anyone."
Another who got in touch via email said she was horrified to hear that her son had been instructed to carry on working.
"My son is young, fit and healthy, however this is hardly the point. He could potentially not only put his own health at risk but that of others. His job requires him to be outside but also to input data sat in a portacabin with others. I can not imagine for one minute that social distancing protocols are being followed. However those in the company further up the food chain have been sent home to work from home. It feels like these workers are cannon fodder."
An employee of a major contractor has also contacted Building to say that site workers feel like they are being left behind.
"Various emails have been sent to staff informing them that because the government have not told the industry to stop, we are contractually bound to continue work and implement the 2 metre rule. Trying to implement this on site is near impossible and the management of the situation by senior staff has been nothing short of embarrassing. All of our offices are closing but sites have been told to continue. The general feeling among site staff is that we are being left behind and our health is not as important as keeping our clients happy."
On Twitter another woman said her husband had no choice but to keep working on site.
My husband is self employed. He can't finish work because the sites remain open and there is currently no government help. I'm also 9 months pregnant, defying all rules set in place. Unless there's help we have no option but for him to work #shutthesites

— Gemma (@GemmaP_xo) March 24, 2020
One client has told Building that it is unbelievable that sites across the UK are still open.
"The main contractors owe a greater duty of care to their employees and their sub-contractors. For an industry that preaches so much about their health and safety standards it makes no sense to cram people into hoists and canteens as well as the pressure this is putting on putting on public transport and on material delivery trucks that could be repurposed for medical deliveries."
The wife of another site worker told Building that her husband had been told he must continue working.
"A few workers stated that it's against the law now but were told [the company] didn't care and needed the job doing! He was then told that they needed the workers to grow some balls and get the job done. They have to turn up tomorrow or again their jobs are on the line and they won't get paid or get the 80% job retention if they close. I despair I really don't know what to say! I'm an asthmatic yet my husband can't lose his job at this mad time."
The father of a man working on site in the North-west said his son's bosses were not interested in the difficulties of trying to maintain social distancing on site.
Update:
My son called me on his lunch and said he's been explaining to his staff why they had to go into work on site today.
He said "I was told we all have to come in as normal"
They asked "Who said so?"
He replied "The people sitting at home on their laptops"#shutthesites

— JackJazz (@JayJay08752584) March 24, 2020
We want to hear your stories: Are you or your loved ones still working on site? Are any measures being put in place? Email building@building.co.uk