Mark Wild adds scheme has 573 tasks to be completed on jobs such as tunnels and shafts
Crossrail's chief executive has said previous leadership teams have struggled to get to grips with the extent of work needed to complete the £18bn project.
Speaking at a Transport for London (TfL) board meeting yesterday, Mark Wild said the project has long been plagued by a level of uncertainty over how much work was required to get the job finished.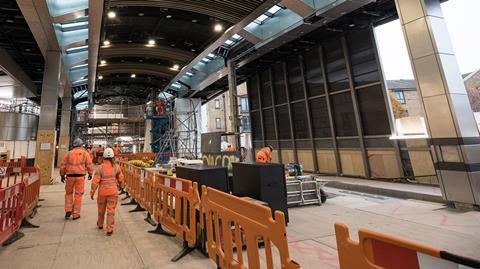 Wild, who took over the top job in November 2018, said: "The historical problem on Crossrail and what [chairman] Tony [Meggs] and I picked up was ambiguity about what's left to do. That's an issue we have wrestled with."
He said 573 tasks along the routeway, which includes the track, tunnels, shafts and portals, still had to be completed but added: "For the very, very first time in terms of the routeway we know what success looks like."
London's deputy mayor for transport Heidi Alexander admitted the project's most recent leadership team had been plagued by a series of inherited problems.
She said: "What Tony and Mark have experienced over the past two years is a constant unearthing of problems they inherited from the previous leadership. I am grateful to both of them for their candour about the recent pressures they have experienced in the programme both pre-covid and as a result of covid.
"I think they have been dealing with problems that started a long time ago to be honest."
Last week Crossrail confirmed the central section of the line would not open next summer as planned and that the cost of the project is likely to go up by more than the £400m to £650m it was projected to increase by last November.
Meggs said the board is hoping to provide a more detailed programme and cost update towards the end of next month.